Oldtimer picture gallery. Trucks. GAZ-AA based specialcars of non-GAZ models.
---
There were many kinds of special bodies based on GAZ-AA: field technical repair vans, miscellaneous food and goods vans, fire engines, militia prisontrucks, buses, tanks, tram and trolleybus contact wire repair vans and so on.
---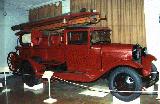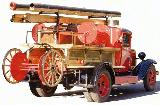 "PMG-1" fire engine. 27k image on the left is taken from Tallinnan Pildigallerii. 23k image on the right is PMG-1, restored by Auto Review magazine restoration group (headed by Lev Zheleznyakov). PMG means "Pozharnaya Mashina GAZ" (Fire Engine GAZ).





---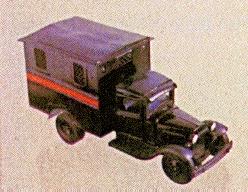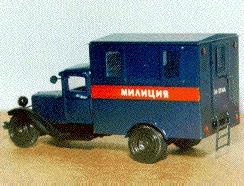 Here are 1:43 scale models of GAZ-AA prisontrucks of 1937 (left) and 1938 (right), taken from Alexander V.Kotlyar site











---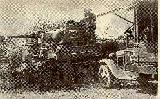 This is GAZ-AA based field technical repair van (most frequent special body on GAZ-AA chassis), 71k image
from "Za rulyom" magazine.






---
Below is the list of GAZ-AA non-factory modifications:
Avtodorovets GAZ-AA - 1932 fire engine with open cab
BPS-4-AD-90 - petrol pump
bus GAZ-AA (not GAZ-03-30)
GAZ-AA prisontruck - 1937
GAZ-AA ambulance (pre-GAZ-55), 37k b/w image from Lev Shugurov's book,
GAZ-AA bread delivery van, 18k b/w image from Lev Shugurov's book "Avtomobili Rossii i SSSR",
GAZ-AA grain truck - 1936
GAZ-AA Kara-Kum rally equipped truck - 1933
GAZ-AA mail delivery van
GAZ-AA floodlight carrier
GAZ-AAL log tractor with timber carriage
GAZ-MM - 1938 - GAZ-AA with M-1 engine
Hydraulical lift
learning truck for new drivers - 5-seater 4-door cabin
"Letuchka typ A" - field technical repair, one more 37k b/w image of 1943 version from Lev Shugurov's book.
movable mini oilplant, 35k b/w image from 1947 "Ogonyok" magazine,
open bus with 2 doors for every seat row,
1947 Aremkuz taxitruck, 13k b/w image from 1947 "Ogonyok" magazine,
NATI coal - gasifier truck
NATI-11 - gasifier truck
NATI-G14 I - gasifier truck
NATI-G14 II - gasifier truck
PMG-1 GAZ-AA - 1932 - fire engine
PMG-4 GAZ-AA - 1932 - fire tanker with open or hardtop cab
PU-5 street sweeper and cleaner
PU-7 street sweeper and cleaner
semivan - rear wall free van occupying front half of cargo division of standard board platform
Tank-truck with vacuum pump
vans - miscellaneous types (3k b&w image)
Some strings here are taken from scale models list, distributed by Alex Barmasov, Sankt-Peterburg, Russia.
If you are model collector, you can buy Soviet vehicles models from Alex pages on EWAcars.
---
If you have to add, ask or correct me, you are welcome to write me by E-mail Contact. Andrei Bogomolov.
---
Entrance   Gallery   GAZ trucks   GAZ-AA   Sale   Links
---
Last updated 2 XII 1998.