Oldtimer picture gallery. Trucks. GAZ-55.
---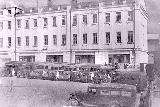 GAZ-55


Years of production: 1938 - [1942] - 1946. In 1942 the model has got simplified wings and only
one headlight. Perhaps artist A.Zaharov drew the car from postwar photocard, because only
pre-war cars were equipped with bumper and bumper was installed later.
Overall production: 9130 pieces. Completely extincted? If you know anything of this ambulance
survived in any condition, please let me know. Thanks.
4x2 GAZ-AA based 10passenger/6wounded ambulance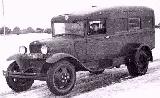 Engine: 50hp/2800rpm, 4-cyl, 3285cc
Bore/Stroke: 98.43/107.95 mm
Length: 5425mm, width: 2040mm, height: 2340mm
Wheelbase: 3340mm, road clearance: 200mm
Gearbox: 4 speeds
Weight: 2370 kg
Maximal speed: 70 km/h
Tyres: 6.50-20 inches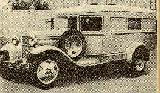 Fuel tank capacity: 40 L
Fuel consumption: 20.5 L/100km
Photos are from: (drawingof post-1942 GAZ-55) Za rulyom magazine (N 7, 1981), USSR,
artist - A.Zaharov.
book by Liucijus Suslavičius (Vilnius, Lithuania).
Chris Pitman's GAZ album, Woombye, Queensland, Australia.
Memoirs of Great Patriotic War veterans.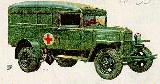 Archive of Veteran Council of Karjalan Front.
The bodies of these ambulances were different in details (perhaps it depends both on year and
producer), but their amount wasn't sufficient even for army needs. My grandmother, who was
major (before 1943 - military doctor of 2nd step) and military surgeon in 1941-1945, has told me
that thay often used standard trucks to transport their wounded soldiers. Another sources only
confirm the fact.
By the way my interest to oldtimers began namely from picture of GAZ-55 met in old magazine in 1978.
---
You are welcome to write me by E-mail Contact. Andrei Bogomolov.
---
Entrance   Gallery   Trucks   GAZ trucks   Sale   Links
---
Last updated 19 VI 2001.