Oldtimer picture gallery. Cars. GAZ-M1 ("Emka").
---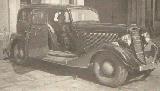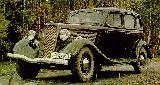 GAZ-M1


Years of production: 1935 - 1943 (1942?)
Overall production: 62888 units
4x2 5-seater 4-door 6-light Saloon
Engine: 50hp/2800rpm, 4-cyl, 4-stroke, 3285cc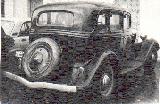 Bore/Stroke: 98.43/107.95 mm
Length: 4625mm, width: 1770mm, height: 1775mm
Base: 2845mm, rear axis clearance: 210mm
Frontwheels gauge: 1435mm
Rearwheels gauge: 1440mm
Turning radius: 6.35 m
Compression rate: 4.6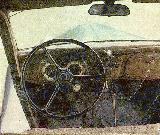 Clutch: single disk, dry
Gearbox: 3 speeds
Differential ratio: 4,44, pair of bevel gears with spiral tooth
Mechanical brakes on all wheels
Weight (without load): 1370kg
Maximal speed (loaded, highway): 100 km/h
Tyres: 7.00-16 inches
Fuel capacity: 60 L
Petrol consumption: 14.5 L/100km
This car was almost the only commander car during most difficult first year of the war. Later it was substituted by Willys MA and MB.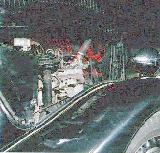 This car originates from 1933 Ford-V8-40. In 1936 GAZ had has name of these times foreign minister V.M.Molotov, who 3 years later signed famous peaceful "Molotov - Ribbentrop pakt" between Soviet Union and Germany. Letters M-1 means Molotov - model N:o 1. Among features of the car was rigid longeron frame with X-like cross-member, pushing strength have been transmitted to the frame by the pipe, contained cardan shaft. GAZ-M1 was the first soviet car with automatic ignition outstripping and back-forward adjstable front seats. This car is very famous and prevailing car of war times, it is mentioned even in this period songs. People called it "Emka" for letter M in its name. Normal production ceased in 1941, but assembling from warehouse details continued a bit longer.Most of M-1 were on government service and only part of them became private later. Trophy cars, on the contrary, were private from the very beginning. That is why now M-1 is more rare than Opels or Mercedeses. The M-1 on the pictures (x66-47MO) is car of Oleg R. Nesterov, famous soviet oldtimers restorer. M-1 images are from "Za rulyom" magazine (N 6, 1987).
1937 photo is from the archive of Mihail Lukinov, photo courtesy of Artem V. Drabkin, visit his site Memoirs of Great Patriotic War veterans.
Modifications:
GAZ-M1 taxi, GAZ-M415 - pickup, GAZ-11-73 - 6-cylinder, GAZ-21 - 3-axle, GAZ-GL1 - racing (one of).
---
You are welcome to write me by E-mail Contact. Andrei Bogomolov.
---

Entrance   Gallery   Cars   GAZ   Sale   Links
---
Last updated 11 XI 2000.