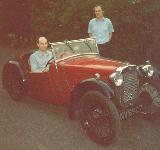 This site is devoted to my long term hobby,
concerning Oldtimer vehicles (1930s - 1960s).

(This site is under permanent evolution.)
---
3AKA3ATb BECb TEKCT HA PYCCKOM B WIN-1251 (BPEMEHHO OTCTAET OT Engl. version, HE BCE ECTb)
---
Oldtimers became my interest since 1978, not every of them but only those models, what were popular and were quite often represented on soviet roads in 1945 or taken from Germany as trophies at the second half of 1940s.
At this period the content of automobiles in Soviet Union was 80% of trucks, pickups and buses (mostly of soviet models) and only 20% of personal cars (mostly of german origin). Amount of motorcycles (mainly german) of 125 cubic cm and up were almost the same - only 9% more than amount personal cars.
This statistics is based on Militia (Police) number plates registration books of 1948 - 1950 and more recent and doesn't include Military Department vehicles (less than 10% of common amount).
---
Look at my oldtimers GALLERY of pictures borrowed from sites and books, sent by people or taken by myself.
---
Since 23 I 1998 the page of OLDTIMERS FOR SALE is opened.
---
See also Links page.
---
You are welcome to write me by E-mail Contact. Andrei Bogomolov.
---
By the way that's me sitting behind steering wheel of 1930 Austin 7. Behind the car Ian Kerr (owner of Austin 7) is staying.
---
Back to my homepage.
---
Last updated 3 VIII 1998.