Oldtimer picture gallery. Trucks. ZIS-150.
---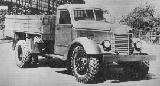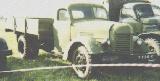 ZIS-150


Years of production: 1947 - 1948 - 1957 (-1965, see ZIL-164)
Overall production: 774615 units
4x2 4000 kg truck
Engine: 90hp/2400rpm, 6-cyl, 5555cc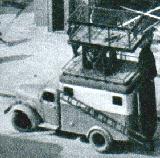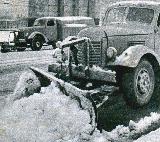 Bore/Stroke: 101.6/114.3 mm
Length: 6720mm, width: 2385mm, height: 2180mm
Wheelbase: 4000mm, rear axis clearance: 265mm
Front wheel track: 1700mm
Rear track: 1740mm
Turning radius on front outer wheel: 8.0 m
Compression ratio: 6.0
Clutch: twin disk, dry
Gearbox: 5 speeds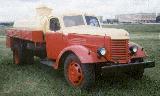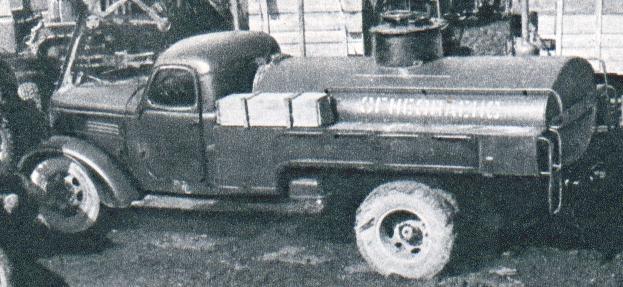 Weight (without load): 3900 kg
Maximal speed (loaded, highway): 75 km/h (?65 by some sources)
Tyres: 9,00x20 inches
Fuel capacity: 150 L
Fuel consumption: 29.0 L/100km
Red-yellow tank truck is property of GK "Mosgortrans". Picture of early platform has been sent by Alexander Andryushin.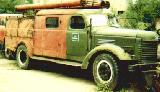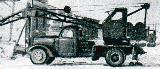 21k ZIL-150 fire tank carries already ZIL white letters on the grille, so this is 1956 or 1957 truck.
---
In 1947 ZIS-150 substituted ZIS-5 on assembly line. ZIS-150 together with GAZ-51 was main truck of 1950s, judging on their amount. Before 1948 all cabins were made with wooden back and doors, what communicated them angular shape. In 1957 base ZIS-150 model was substituted by ZIL-164, differed outwardly only by vertical grille bars and bumper.
ZiS-150 was also manufactured in Brasov, Romania in 1955-1965 under "Steagul Rosu" (Red Flag) label (86k b/w photo). The nose is almost the same with ZIS 150 and the wooden cab (69k b/w photo). The rest of technical data-like ZIS 150. 54224 of these trucks were manufactured. Thanks for information to Florian Soava and Dorin from Bucharest.
China produced very exact copy of this truck too.
---
You are welcome to write me by E-mail Contact. Andrei Bogomolov.
---
Entrance   Gallery   ZIS trucks   Sale   Links
---
Last updated 19 VIII 1998.