Oldtimer picture gallery. Cars. ZiS-110.
---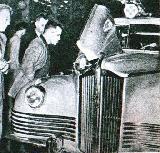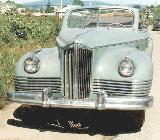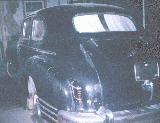 ZIS-110

(Data for ZiS-110 limousine)
Years of serial production: VIII 1945 -
1959 (by rumours post-series production
continued at least till 1961)
Overall production: 2083 units (2089 by
other source)
Body types:
7-seater 4-door limousine (body type ZIS-140(15)), 1947-1959, visually - every 80-90% of all
5-door ambulance ZIS-110A, (1947?) 1948-?, quite many
4-door phaeton ZIS-110B (body type ZIS-140B(15)), 1947-1955-?, quite many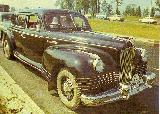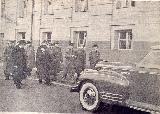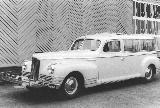 7-seater 4-door taxi (hard-top), 19??-19??, small series
7-seater 4-door armoured limousine
ZIS-115, at least 43 built?
7-seater 4-door armoured limousine
ZiS-110S, 19?? - late 1947, 5 built
4x4 7-seater 4-door staff limousine ZiS-110Sh (194? - 194?), 4 built
4x4 7-seater 4-door limousine ZiS-110P (late 1955 - 1956?), at least 3 built
4x4 7-seater 4-door phaeton ZiS-110P 195?, at least 1 built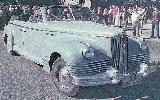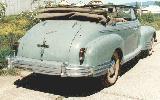 4-door 4-light cabriolet ZIS-110,
19??-19??, ? built, one is shown here
semi-phaeton (with side glass windows
only for 1st row of seats)
cabriolet with electric roof control for
Klement E. Voroshilov, 19??, 1 built
hearse, 19??, 1 built
Engine: 140hp/3600rpm, straight 8-cyl, 4-stroke 6005cc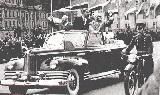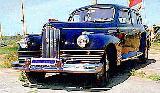 Compression ratio: 6,85:1
Bore/Stroke: 90/118mm
Clutch: dry single plate
Length: 6000mm, width: 1960mm, height:
1730mm
Wheelbase: 3760mm
Front wheel track: 1520mm
Rear track: 1600mm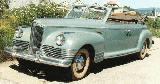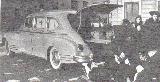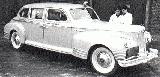 Both axles road clearance: 210mm
Turning radius: 7,4m
Gearbox: 3-speed + back
Weight: 2575 kg
Maximal speed: 140 km/h
Tyres: 7,50x16 inches
Fuel capacity: 80 L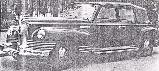 Fuel consumption: 23 L/100km
Price: government limousine, not for sale
This car has been created for government
and communist leaders.
Prototyped in WW2 years, ZiS-110 continued line of 1942 Packard Super Eight, one of which was presented to Iosif
Vissarionovich Stalin by Franklin Delano Roosewelt in war times. ZiS-110 wasn't exact copy, many parts (even body ones)


weren't interchangeable since they differed in dimensions.
First serial batch of 5 limousines appeared in August 1945.
On 28 IV 1947 many new models of Soviet automobiles have been shown in Kremlin to Stalin, Molotov, Voznesenskii, Berija, Mikojan and Malenkov. Shown automobiles list: GAZ-M20 "Pobeda", Moskvich, Moskvich taxi with wooden body and Moskvich wooden postal van, ZiS-110 and ZiS-110 phaeton (shown here), ZIS-154.
Almost all limousines have been painted in black. Some were dark blue. Ambulances - white, phaetons - grey and black, taxi - black. This isn't strict list of paints, of course.

Small table of serial numbers by years (from registration cards of road militia, where many mistakes usually):
1946: 181 (body or chassis) 01201 (engine)
1948: 592 (body or chassis) 1342 (engine)
1949: 1998 (body) 780 (chassis) no number (engine)
1949: 259 (body) 259 (chassis) 2130 (engine)
1951: 863 (body or chassis) 352 (engine)
1953: 1582 (body or chassis)
1953: 1610 (body or chassis)
1956: 1970 (body or chassis) 2496 (engine) - this car is ambulance
Please take into account that mistakes may be in any digit, plus changes of bodies and engines, the latter often from other models.

Photos are from:
The Automobile in Bulgaria (in Bulgarian/English) - kindly permitted by the author - Ivan Kolev. T. Noorits, Estonia,
The archive of automobile journalist Denis Orlov, Moscow,
Za Ruljom magazine, Russia,
Russian State Archive of Cinema- and Photodocuments,
Igrushki dlja boljshih, oldtimer magazine, Russia,
Molotok.Ru internet auction, Russia,
Igor Guzienko, Kiev,
"Ogonyok" magazine, USSR,
Iz Ruk V Ruki - Avto, Moskva,
"Special Interest Autos" magazine, February, 1980, article by Griffith Borgeson,
Katalog zapasnyh chastei avtomobilja ZiS-110, Moskva, 1951,
Avtomobil ZiS-110, 1947.
Thanks for help to Johan Berg (Järfälla, Sweden), member of Nordic Packard Owners Club,
Liuben Ivanov, owner of ZiS-110 (Sofia) and
Vladimir Vorobjev (Moscow).
---
You are welcome to write me by E-mail Contact. Andrei Bogomolov.
---

Entrance   Gallery   Cars   ZIS/ZIL cars   Sale   Links
---
Last updated 17 X 2001.