Oldtimer picture gallery. Cars. GAZ-M20.
---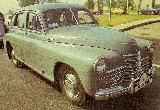 GAZ-M20 "Pobieda"


Years of production: (1945) 1946-1948, 1948-1955-1958
Overall production: 235997 units (including 14220 cabriolets)
Chassis-less body, 4x2; 5-seater 4-door sedan (also taxi), 4-door cabriolet, pickup (14k b/w), 4WD GAZ-M72
Engine: 50hp/3600rpm, 4-cyl, 4-tact 2,112cc
Length: 4665mm, width: 1695mm, height: 1590mm
Wheelbase: 2700mm, clearance: front axle - 210mm, rear axle - 200mm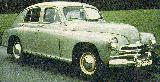 Front wheel track: 1364mm; toe-in: 1.5-3.0 mm; camber: 0; caster: 0
Rear track: 1362mm
Turning radius: 6.3m
Bore/Stroke: 82/100 mm
Cool clearance between tappet and valve stem: intake - 0.28mm, exhaust - 0.30mm
Compression ratio: 6.2:1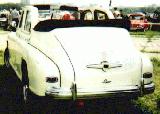 Carburettor: 1946-1948 - K-22; since 1948 - K-22A, downdraft
Battery: 6-STE-50, 12V, battery capacity - 50 A*h
Interrupter-distributor type: R23, contact clearance: 0.35-0.45 mm
Generator type and voltage: G20, 12V
Starter type and power: ST-9; 1.7hp
Spark plugs type: M12/10 18X1.5; electrode clearance: 0.6 - 0.7 mm
Cylinder firing order: 1-2-4-3
Clutch: dry single plate, semicentrifugal
Clutch pedal clearance: 38-45mm

Gearbox: 3 speeds + 1 rear
Ratios: I - 2.820, II - 1.604, III - 1.000, rear - 3.383
Differential ratio: 1946-1948 - 4.7, since 1948 - 5.125, bevel gear with spiral teeth
Front suspension: independent, leveral on cylindrical springs + 2 hydaulical shock-absorbers acting in both directions
Rear suspension: 2 longitudinal semielliptical springs + 2 hydaulical shock-absorbers acting in both directions
Hydraulical all-wheels shoe brakes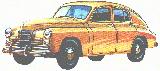 Brake pedal clearance: 8-14mm
Weight, fuelled - 1350kg
Maximal speed with maximal loading: 105 km/h
Climb: ahead - 27 degrees, back - 19 degrees
Tyres: 6.00-16 inches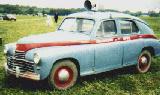 Tyre pressures (atmospheres): front - 2, rear - 2
Fuel capacity: 55 L
Fuel consumption: 13.5 L/100km
Cooling system capacity: 9.5(?10.5) L
Oil carter capacity: engine - 6.0 L (including oil filters); gearbox - 1.6 L; differential - 1.1 L
Price: 16000 Rubles
---

First experimental M-20 appeared in November 1944. In June 1946 the car appeared on the production line. But it soon appeared, that the car had has serious disadvantages in front axle, and in 1948 all M-20 have been collected back to the plant for rebuilding, the production line was stopped in October 1948, and was restarted the production only in November of 1948. Since X 1950 gearbox lever was mounted on the steering wheel. In 1948-1953 GAZ-20 cabriolet has been included into production. In 1955 "Pobieda" has got modified radiator grill, instrument panel, removed horizontal bar between fangs of front bumper, this model is known as M-20V. There was also 4WD GAZ-M72 on the production line in 1955-1958 and small series of 6-cylinders M-20G. Pickup had longitudinal semielliptical springs also on front axle. I heard romours, that our club guys have found M-20 2-door sedan. Who knows, sometimes rumours became true.
In 1951 - 30 III 1973 the car has been produced under Warszawa trademark. In 1951-1957 it was copy of 1949 M-20, then Polish engineers subjected it by multiple restylings and modifications. Total production of Warszawa was 244472 cars.
Name "Pobieda" (the win) originates from the May of 1945. Index M means Molotov i.e. Zavod Imeni Molotova (Plant named with Molotov's name).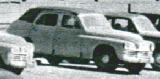 First picture shows 1947(1946?) version of GAZ-20 Pobieda.
Second 89k picture of 1955 Pobieda is taken from "Svet Motoru" magazine, Czechoslovakia.
Third 16k photo shows cabriolet version.
On the 4-th image M-20 is taken from the back.
The 5-th 70k drawing by A.Zaharov from "Za Rulyom" shows 1945 6-cylinder experimental GAZ-20. It's outer differencies are in GAZ-M1 wheeldisks, two more long low grill moldings (this version was applied also on the very first (1946 and perhaps early 1947) serial cars), more complicately ornamented sidelights and bumper fangs.
6-th 21k image is GAZ-20 painted in Militia colors.
7-th 68k image of taxi cabs and 9k b&w image of cabriolet are taken from 1958 "Ogonyok" magazine.

What else in the net:
Pobeda WEB (in Estonian), site of Priit Kuldsaar.
Pobeda M20 & M72 (in Estonian), site of Priit Kuldsaar
---
You are welcome to write me by E-mail Contact. Andrei Bogomolov.
---

Entrance   Gallery   GAZ cars   Sale   Links
---
Last updated 4 III 1999.