Oldtimer picture gallery. Cars. Moskvich-400 and 401.
---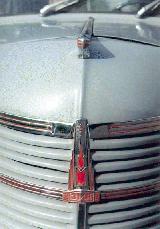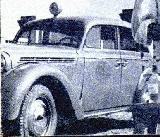 Moskvich-400/420 and 401/420

(data for Moskvich-401 are in parentheses)
Years of production: 4 XII 1946 - 1954 (M-400 or merely Moskvich), 1954-1956 (M-401)
Overall production: 216006 sedans, 17742 cabriolets, 11129 wooden vans and 2562 commercial chassis for pickups, airplane start help motors and special vans.
Chassis-less body, 4x2: 4-seater 4-door sedan, 4-door cabriolet, 3-door woody van (28k), 2-door pickup
Engine: 23(26)hp/3600(4000)rpm, 4-cyl, 4-tact 1,074cc (from 1955 - engine of Moskvich-402)
Compression: 5.8(6.2):1
Bore/Stroke: 67.5/75mm
Cool clearance between tappet and valve stem: intake - 0.15-0.17 mm, exhaust - 0.20-0.22 mm
Carburettor: K-24, downdraft
Battery: 3-STE-65, 6V, battery capacity - 65 A*h
Generator type and power: G28, 100W
Starter type and power: ST-28; 0.6hp
Spark plugs type: NA-11/10A, SP. M14X1.25; electrode clearance: 0.60 - 0.70 mm
Length: 3855mm, width: 1400mm, height: 1545mm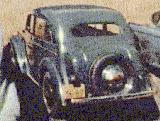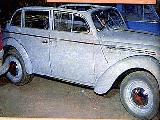 Wheelbase: 2340mm, clearance: 190mm for both axles
Front wheel track: 1105mm; toe-in: 1.5-2.5 mm; camber: 0degree42'; caster: 0
Rear track: 1170mm
Turning radius: 6.00m
Climb: ahead 35 degrees, back - 23 degrees
Cylinder firing order: 1-3-4-2
Clutch: dry single plate
Clutch pedal clearance: 18-24mm
Gearbox: 3 speeds + 1 rear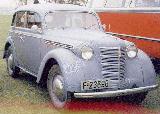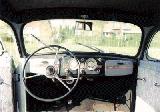 Ratios: I - 3.56, II - 1.73, III - 1.00, rear - 4.44
Differential ratio: 5.14, bevel gear with spiral teeth
Front suspension: independent + 2 hydaulical shock-absorbers acting in one direction
Rear suspension: 2 longitudinal semielliptical springs + 2 hydaulical shock-absorbers acting in one direction
Hydraulical all-wheels shoe brakes
Brake pedal clearance: 6-12mm
Weight (without loading): 845(855) kg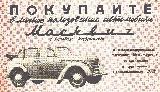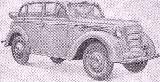 Maximal speed: 90 km/h
Tyres: 4.50x16 or 5.00x16 inches
Tyre pressures (atmospheres): front - 2.00 or 1.75, rear - 2.30 or 2.00
Fuel capacity: 31 L
Fuel consumption: 9.0 L/100km
Cooling system capacity: 6.0 L
Oil carter capacity: engine - 2.7 L (including oil filter - 3.3 L); gearbox - 0.4 L; differential - 0.9 L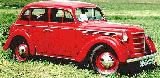 Price: 9000 Rubles
Moskvich-400 is really 4-door 1938 Opel-Kadett K38. German equipment was completely moved to Moscow, where in 1947 Moskvich production began. Initially it was assumed, that Moscow ZMA plant will produce DKW-F8, but finally Opel-Kadett K38 was chosen (DKW-F8 equipment has been left in East Germany, and DDR IFA-F8 was on the production line until 1955). Later wooden van 422 (1949-1956) cabriolet 420A (1949-1952) and pickup 420B (1954) appeared. There was also medical version of the car, but it differed from standard sedan only by additional light above the windscreen and by inner medical set.
Indices 400 and 401 are really engine plant symbols. Index 420 relates to the body.
In 1954 more powerful 401 model appeared. And latest M-401 have been supplied by M-402 motor.
Photos are from:
1950 and 1953 "Ogonyok" magazine, USSR.
Autoclassic magazine, Hungary.
"Za Rulyom" magazine, Russia.
Avtofoto 2005.
Thanks for photos also to Fuad Mamedov (Azerbaijan) and Jan Paulsen (Lillehammer, Norway). Jan is the owner of few Moskvich cars and big admirer of this make.
---
If you have to add, ask or correct me, you are welcome to write me by E-mail Contact. Andrei Bogomolov.
---

Entrance   GALLERY   Moskvich cars   Sale   Links
---
Last updated 29 V 2000.