Oldtimer picture gallery. Trucks. BAV (ZIS-485, ZIL-485).
---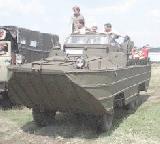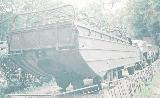 ZIS-485, ZIL-485, ZIL-485-A, ZIL-485-B, DAZ-485

(data for ZiS-485)
Years of production: (1950) 1951 - 19??
6x6 front engine 2,5-ton 25-passenger amphibia, based on ZIS-151
(BAV) and ZIL-157 (BAV-A, B)
Overall production: ?
Engine: 110hp/?rpm, 6-cyl. SV carburettor water-cooled, 5555cc
Bore/Stroke: ?/? mm
Length: 9533mm, width: 2475mm, height: 2635mm (9540x2485x2660 by another source)
Wheelbase: 3668mm + 1120mm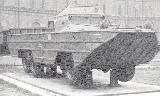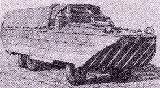 Road clearance: 285mm
Front- and rear wheel track - 1620mm (this is for BAV, more wide -
on BAV-A)
Gearbox: 5 speed (BAV-B had synchromesh gearbox)
2-speed transfer box
Leaf spring suspension, inverted at the rear
Hydraulic brakes with air servo (BAV-A, B - air brakes)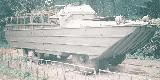 Weight: 7150 kg (7050 kg by another source), BAV-A - 7400 kg
Maximal speed: 60 km/h (highway, 70km/h by another source), 10km/h (water)
Tyres: 11,00x18 inches (BAV), 12,00x18 inches (BAV-A), central pressure controling
Fuel consumption: ? L/100km, enough for 500km on highway or 6 hours of swimming
Two water pumps.
Winch.
Patterned on 1942-45 GMC-DUKW353, this automobile was created in 1950 by the team of Vitalii Andreevich GRACHOV, and had model index DAZ-485 as initially planned for Dniepropetrovsk Automobile Zavod (DAZ) production lines. DAZ never started any automobile production, so in 1951 production of this model began on ZIS factory in Moscow. Military name for this vehicle was BAV - Bolshoi Avtomobil Vodoplavajushchii (Big Amphibia). Initially units from standard military 6x6 ZIS-151 were used, later - ZIL-157, which replaced ZIS-151 in 1958. Modified BAV has got index BAV-A. Driving rear- or all wheels.

Photos are from:
Armin Zürcher (Switzerland),
Liucijus Suslavicius book, automobile historian, Vilnius,
Denis Orlov, automobile journalist and historian, Moscow,
Valerii J. Nasonov, Moscow,
Jan Szatan, Poland (homepage),
MFHF, Sweden.
---
You are welcome to write me by E-mail Contact. Andrei Bogomolov.
---
Entrance   Gallery   Trucks   ZIS   ZIL   Sale   Links
---
Last updated 4 III 2002.