Oldtimer picture gallery. Trucks. ZIS-151.
---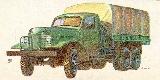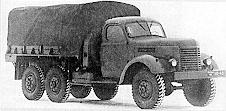 ZIS-151


Years of production: 1948 - 1949 - 1958
Overall production: ? units
6x6 4500 kg ZIS-150 based truck
Engine: ZIS-121; 92hp/2600rpm, 6-cyl, 5555cc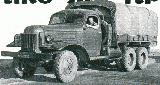 Bore/Stroke: 101.6/114.3 mm
Length: 6930mm, width: 2320mm, height: 2310mm
Wheelbase: 4225mm, rear axis clearance: 260mm
Front wheel track: 1590mm
Rear track: 1720mm
Turning radius on front outer wheel: 11.2 m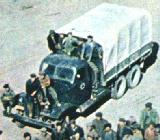 Compression ratio: 6.0
Clutch: dry twin plate
Gearbox: 5x2 speeds
Weight (without load): 5580 kg
Maximal speed (loaded, highway): 60 km/h
Tyres: 8,25x20 inches
Fuel tank capacity: 2x150 L
Fuel consumption: 42 L/100km
---
Upper 29k drawing of 1948 ZIS-151by artist A.Zaharov and photo of 1947 prototype are taken from "Za Rulyom" magazine, Russia.
The rest are from old "Ogonyok" magazine.
Thanks for corrections to Florian Soava and Dorin from Bucharest.
---
ZIS-151 substituted Studebaker-US6 in Soviet army. In early 1948 cabins were wooden, what communicated them angular shape. In 1958 ZIS-151 model was substituted by ZIL-157, differed outwardly by grille and by single track rear wheels instead of twin wheels of 151.
---
You are welcome to write me by E-mail Contact. Andrei Bogomolov.
---
Entrance   Gallery   ZIS trucks   Sale   Links
---
Last updated 20 VIII 1998.