Oldtimer picture gallery. Trucks. ZIS-585.
(Mytishchi Machine-building Plant (Zavod)), Mytishchi, Moscow region, USSR.
---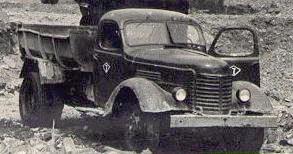 ZIS-MMZ-585


Years of production: 1949 - 1957 (-1966, see ZIL-585)
Overall production: ? units
4x2 3500 kg dump truck
Engine: 90hp/2400rpm, 6-cyl, 5555cc
Bore/Stroke: 101.6/114.3 mm
Length: 5940mm, width: 2290mm, height: 2180mm
Wheelbase: 4000mm, rear axis clearance: 265mm
Front wheel track: 1700mm
Rear track: 1740mm
Turning radius on front outer wheel: 8.0 m
Compression ratio: 6.0
Clutch: twin plate, dry


Gearbox: 5 speeds
Weight (without load): 4210 kg
Maximal speed (loaded, highway): 65 km/h
Tyres: 9.00x20 inches
Fuel capacity: 150 L
Fuel consumption: 29.0 L/100km
These pictures are from family album, 1954.
---
ZIS-150 based ZIS-MMZ-585 was main dump truck of 1950s, judging on their amount. Their production was organized in Mytishchi, few kilometers from Moscow, on MMZ (Mytishchi Machine-building Plant (Zavod)). Before 1949 all cabins were made with wooden back and doors, what communicated them angular shape. This rare truck is on bottom picture, if you can make out anything on this small fragment. In 1957 base ZIS-150 model was substituted by ZIL-164, differed outwardly only by vertical grill bars and bumper. ZIL-585 has got the same features.
---
If you have to add, ask or correct me, you are welcome to write me by E-mail Contact. Andrei Bogomolov.
---
Entrance   Gallery   ZIS trucks   Sale   Links
---
Last updated 19 VI 1998.