Oldtimer picture gallery. Trucks. ZIS-42.
---

ZIS-42


Years of production: 1942 - 1943 - 1944
semicaterpillar ZIS-5
Overall production: 5931 ZIS-42 and 42M trucks. Completely extincted.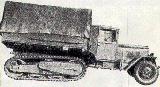 Engine: ZIS-42 - 73hp/2300rpm, 6-cyl, 4-stroke, 5555cc; ZIS-42M - 85hp/2600rpm, 6-cyl, 4-stroke, 5555cc
Bore/Stroke: 101.6/114.3 mm
Length: 6095mm, width: 2360mm, height: 2950mm
Wheelbase: 3810mm, clearance: 395mm
Gearbox: 4 speeds
Weight: 5250 kg
Maximal speed: 45 km/h
Tyres: 7.50x20 inches
Fuel consumption: 55(ZIS-42) - 60(ZIS-42M) L/100km
These 38k and 32k photos are from "Za Rulyom" magazine, USSR.
In 1943 this truck received ZIS-16 engine instead of engine of ZIS-5. Index 42M means ZIS-16 engine.
In 1944 ZiS-43 prototype, 37-mm anti-aircraft automatical gun on ZiS-42 base, has been built on GAZ.
ZIS-42 was not too good as it was expected, - it went without problems only through snowfield and swamp. That is why there wasn't any more attempts to combine wheels and tracks after ZIS-42 and GAZ-60 in Soviet Union and seems in Germany (Opel-Blitz maultier) too.
Perhaps the last ZIS-42 was still serving for one of factories in 1961 in Kameshkovo district of Vladimir region.
If you know anything of spare parts for this truck (or may be whole one?!) please let us know.
---
If you have to add, ask or correct me, you are welcome to write me by E-mail Contact. Andrei Bogomolov.
---
Entrance   Gallery   ZIS trucks   Sale   Links
---
Last updated 19 VI 1998.