Oldtimer picture gallery. Cars. ZiL-111.
---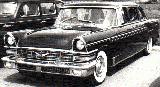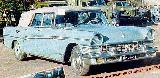 ZIL-111


Years of production: 1959-1963, pre-series in 1958
Overall production: 112 units (including ZIL-111G)
Body: 7-seater 4-door limousine (111A - with air conditioning) or cabriolet (ZIL-111V, 1960-1962)
Engine: 200hp/4200rpm, V8-cyl, 4-stroke 5,996cc
Compression ratio: 9,0 : 1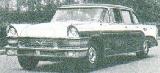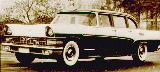 Bore/Stroke: 100/95mm
Length: 6140mm, width: 2040mm, height: 1640mm
Wheelbase: 3760mm
Front wheel track: 1570mm
Rear track: 1650mm
Rear axle clearance: 208mm, frame clearance: 180mm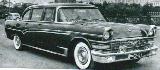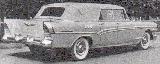 Turning radius: 7,5 m
Gearbox: 2 speed with hydrotransformer, automatical
Weight: 2450kg (2605 kg - ZiL-111A)
Maximal speed: 170 km/h
Tyres: 8,90x15 inches
Fuel tank capacity: 120 L



Fuel consumption: 19.0 L/100km (under 50-80 km/h)
Price: government limousine, not for sale
ZiL-111A differs by non-panoramic rear window and by presence of additional rear air-conditioning system.
This car has been created for government and communist leaders. Almost all limousines have been painted in black.
Photos are from:
The archive of automobile journalist Denis Orlov, Moscow,
Auto Review magazine, Russia,
Za Ruljom magazine, Russia,
Russian State Archive of Cinema- and Photodocuments,
Archive of the NAMI.
---
You are welcome to write me by E-mail Contact. Andrei Bogomolov.
---
Entrance   Gallery   Cars   ZIS/ZIL cars   Sale   Links
---
Last updated 11 III 2001.