Oldtimer gallery. Trucks. JaG-6.
---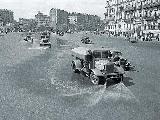 JaG-6


Years of production: 1936 - 1942
Overall production: 8075
4x2 5-ton truck, 3-seater cabin
Engine: ZiS-5 73hp/2300rpm, 6-cyl 4-stroke, 5555cc (dry weight - 434kg)
Length: 6500mm, width: 2500mm, height: 2550mm (2580mm on other source)
Platform inner dimensions: length - 3780mm, width - 2330mm, board height - 600mm
Wheelbase: 4200mm, rear axle clearance: 300mm (310mm on other source)
Front wheel track (on ground): 1780mm; toe-in: 5mm; camber: 2o17'; caster: 0o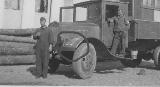 Rear track: 1860mm
Turning radius: 9000mm on front wheel track
Bore/Stroke: 101.6/114.3 mm
Pistons type: cast-iron
Hot clearance between tappet and valve stem: intake - 0.20mm, exhaust - 0.25mm
Compression ratio: 4.6:1
Carburettor: MKZ-6, updraft vertical, with economizer and controlable accelerating pump
Dimensions: diffusor - ?; main jet - ?; sprayer jet - ; idling jet (sprayer tube/calibrated hole) - ?/?; accelerator jet - ?; between float's top and bottom of float chamber lid - ?
Air filter: net-type, moisturized by oil (without oil bath and intake noise extinguisher)
Ignition system: battery (6V), battery capacity - 144 A*h
Interrupter-distributor type: ?; contact clearance: ? mm
Generator type and power: ?
Starter type and power: MAF-4007; ?hp Spark plugs type: M20/20; 18 x 1.5mm; electrode clearance: ? mm
Cylinder firing order: 1-5-3-6-2-4
Clutch: dry twin plate
Clutch pedal clearance: ?mm
Gearbox: ZiS-5 4 speeds
Ratios: I - 6.600, II - 3.740, III - 1.840, IV - 1.000, rear - 7.630
Differential ratio: 10.90, bevel gear with straight tooth
Front suspension: 2 longitudinal semielliptical springs
Rear suspension: 2 longitudinal semielliptical springs with additional springs
Mechanical only-rear-wheels shoe brakes with vacuum booster
Weight: 4930kg
Maximal speed: 40 km/h
Tyres: 40x8 inches
Tyre pressures (atmospheres): front - ?, rear - ?
Fuel tank capacity: 177 L
Fuel consumption: 40 L/100km
Cooling system capacity: 23 L
Oil carter capacity: engine - 7.0 L; gearbox - ? L; differential - ? L
JaG-6 was most numerous pre-war truck of Yaroslavl plant, although even JaG-6 was quite rare.
JaG means Jaroslavskii Gruzovik (truck).
---
You are welcome to write me by E-mail Contact. Andrei Bogomolov.
---
Entrance   GALLERY   Trucks.   JaAZ trucks   Sale   Links   
---
Last updated 28 VIII 1998.