Oldtimer picture gallery. Cars. Opel-Kadett.
---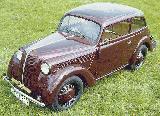 Opel-Kadett (Model 11234)


Years of production: XI 1936 - 1937
Overall production: 33402
4x2 4-seater classic scheme car with chassis-less body
Body modifications (body symbol, price in ReichsMark):
2-door 4-light limousine (LZ, 2100 RM),
4-door 6-light limousine (LV, only for export),
2-door 4-light cabriolimousine (CL, 2100 RM),
See also statistics by body types (generally in Russian with some English).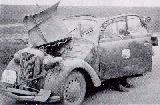 Engine: 23hp/3400rpm, 4-cyl 4-stroke SV, 1074cc
Length: 3810mm, width: 1375mm, height: 1455mm
Wheelbase: 2337mm, clearance: 190mm
Front wheel track: 1075mm; rear track: 1168mm
Turning radius: 5.82m
Bore/Stroke: 67.5/75 mm
Pistons type: MEC
Cool clearance between pusher and valve rod: input - 0.20mm, output - 0.25mm
Compression ratio: 6:1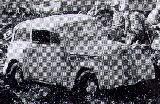 Carburettor: Opel, downdraft vertical
Dimensions (in mm and conditional units): diffusor - 19mm; main jet - 26cu; sprayer jet - 38cu; idling jet (sprayer tube/calibrated hole) - 45/36cu or 70/36cu; accelerator jet - 50cu; between float's top and bottom of float chamber lid - 12mm
Air filter: no
Ignition system: battery (Bosch, 6V), battery capacity - 70 A*h
Interrupter-distributor type: VE4-ALS 259; contact clearance: 0.4 - 0.5 mm
Generator type and power: DE/6AR7; 90W
Starter type and power: CG 0.6/6BRS 37P; 0.6hp Spark plugs type: W 145/0; 14mm; electrode clearance: 0.7 - 0.8 mm
Cylinder firing order: 1-3-4-2
Clutch: dry single disk with spring damper
Clutch pedal clearance: 25-30mm
Gearbox: 3 speeds with oblique teeth
Ratios: I - 3.56/3.52, II - 1.73/1.69, III - 1.00/1.00, rear - 4.44/4.60
Differential ratio: 5.14, bevel gear with spiral tooth
Front suspension: independent, of Dubonnet type
Rear suspension: whole axis of Banjo type with longitudinal semielliptical leaf springs
Hydraulical all-wheels shoe brakes
Weight: 757kg
Maximal speed: 98 km/h
Tyres: 4.50-16 inches
Tyre pressures (atmospheres): front - 1.60, rear - 1.70 or 2.00
Fuel tank capacity: 27+5 L
Fuel consumption: 8 L/100km
Cooling system capacity: 6.0 L
Oil carter capacity: engine - 3.2 L; gearbox - 0.35 L; main transmission - 0.90 L
Pre-index of chassis No: 234- ; engine No: 37- . Chassis numbers I really met: 234-11213 and -14494.


Productionnumbers by Eckhart Bartels:

Year   1936   1937  Total 
cars   2263  31139  33402

Photo sources:
Opel.
Reinhard Frank "Personenwagen der Wehrmacht", PODZUN-PALLAS, 1992.
Thanks for help to Martin Vorwahl, collector of oldtimer photos, Oldenburg, Germany.
11234 - first two digits mean engine capacity in decilitres, the rest - wheelbase in cm.
This model has substituted old Opel-P4 model and was soon modified to Opel-Kadett K38 in late 1937.
---
If you have to add, ask or correct me, you are welcome to write me by E-mail Contact. Andrei Bogomolov.
---

Entrance   Gallery   Cars   Opel   Sale   Links
---
Last updated 14 I 2001.