Oldtimer picture gallery. Cars. Opel-Admiral.
---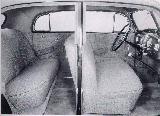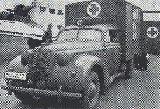 Opel-Admiral (Model 36315)

(data for Limousine)
Years of production: 1937 - X 1939
Overall production: 6404 examples (3500 4-door 4-light Limousines + 2314 4-door factory Cabriolets + 590 chassis for special bodies)
4x2 4-6-seater front motor rear wheeldrive car, body based on frame
Body modifications (price in ReichsMarks):
4-door 4-light limousine (body symbol - LV, 6500 RM) (more often, 3500 examples), 1937-1939
4-door 4-light cabriolet (by Opel - 7000 RM), 1938-1939
2-door 2-light cabriolet (various types by Gläser, Hebmüller (80 built), Baur and Opel), 1938-1939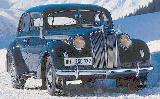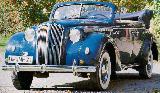 4-door cabriolimousine (CL) (rare)
2-door 4-light limousine (LZ), (rare),
Pullman-Limousine by Hebmüller (rare)
Engine: 75hp/3200rpm, straight 6-cyl 4-stroke OHV, 3626cc, block and head from grey cast iron
Length: 5265mm, width: 1800mm, height: 1625mm (Cabriolet - 1610mm)
Wheelbase: 3155mm, clearance: 190mm
Front wheel track: 1460mm; toe-in: 2,4mm; camber: 0o49'; caster: 7mm on special Opel instrument
Rear track: 1460mm (?or 1456mm)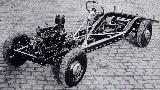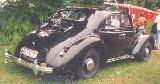 Turning diameter: 12,5 m (right), 12,6 m (left)
Bore/Stroke: 90/95 mm
Pistons type and material: EC, Autothermik
Hot clearance between tappet and valve stem: intake - 0,2mm, exhaust - 0,3mm
Compression ratio: 6:1
Carburettor: Opel, downdraft vertical, 3 types
Dimensions (in mm and conditional units): diffusor - 27/27/27mm; main jet - 225/230/220cu; sprayer jet - 175/200/175cu;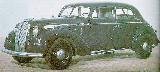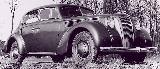 idling jet (sprayer tube/calibrated hole) - 75/75/75cu; accelerator jet - 60/60/60cu;
between float's top and top of float chamber - 10/10/10mm
Air filter: oil bath type (metal shavings, moisturized by oil)
Ignition system: battery (Bosch, 6V), battery capacity - 87.5 A*h
Interrupter-distributor type: VJU 6/1; contact clearance: 0,35 - 0,45 mm
Generator type and power: RJH130/6 2000RS; 277W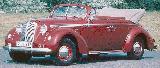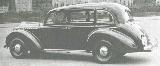 Starter type and power: CJ 0.8/6 ARS 24P; 0.8hp Spark plugs type: W 175/T1; 14mm; electrode clearance: 0.7 - 0.8 mm
Cylinder firing order: 1-5-3-6-2-4
Clutch: dry single plate with a spring dampers
Clutch pedal clearance: 25-30mm
Gearbox: Opel, 3 speeds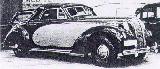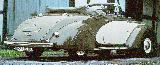 Ratios: I - 2.94, II - 1.66, III - 1.00, rear - 3.78
Differential ratio: 43 : 10, bevel gear with spiral tooth
Front suspension: independent, Dubonnet type
Rear suspension: whole axis of Banjo type with longitudinal semielliptical springs
Hydraulical all-wheels shoe brakes
Weight: 1540kg (by other source - 1605kg) (by 1938 description - 1635kg, Limousine, chassis weight - 1130kg)



Maximal speed: 132 km/h
Tyres: 6,50-16 inches
Tyre pressures (atmospheres): front - 2,0, rear - 2,0 (only for Opel-bodied cars)
Fuel tank capacity: 70 L
Fuel consumption: 19,7 L/100km (by other source - 17,5 L/100km)
Cooling system capacity: 14.3 L
Oil carter capacity: engine - 4,75 L; gearbox - 1,0 L; differential - 1,50 L

Pre-index of chassis and engine No:
Year Chassis Engine Chassis numbers I really met
1938 Ad 38-  38 Br.
1939 Ad 38-  39 Br. AD 38-3574, -5376

Productionnumbers by Eckhart Bartels:

Year  1937  1938  1939  Total 
cars     8  3340  3056   6404


In pre-war Germany Opel's role was very similar to Ford's one in
America, - "to sit Germany into a cars". Opel cars were cheap,
reliable and modern, but occupying middle and small classes
in German car production. The rest German competitors in these
classes were far behind in total sales. Opel-Admiral was an attempt to "capture a place under the sun" in more high class,
where Mercedes-Benz and Horch reigned. Seems, this attempt was successful. In this case why Admiral production was over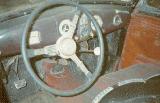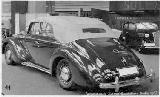 in 1939, while smaller models remained until 1940? Perhaps it was
economically more efficient to concentrate back to smaller classes.
Perhaps war needs of trucks prevailed. Since Admiral had the same
engine as very successive 3-ton Opel-Blitz 3,6-36S and
Opel-Blitz 3,6-6700A, it is very possible.

Photos are from:
Opel,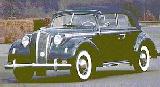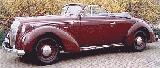 Werner Oswald's book "Kraftfahrzeuge und Panzer der Reichwehr,Wehrmacht und Bundeswehr", 1982, Motorbuch Verlag Stuttgart,
"Die Chronik des Automobils" by Hans-Otto Neubauer,
W.Schmarbeck/B.Fischer "Alle Opel Automobile", 1989, Motorbuch Verlag Stuttgart.
2-door Gläser (Dresden) 2+2 cabriolet is restored by J.Hlavinka from VCC Prostejov, Czechoslovakia. 76k photo from "Svet motoru" magazine.
Rear view of 4-door Limousine was kindly supplied by Martin Vorwahl, collector of oldtimer photos, Oldenburg, Germany.
Eckhart Bartels "Opel Fahrzeug-Chronik 1887-2000", Podszun, 2000.
Werner Oswald "Deutsche Autos 1920-1945".
Andrei Ruban, Cherkassy, Ukraine.
VeteranenLaden,
eBay Deutschland,
Mobile.de.

Thanks for help to Stefan Weiss (Germany),
Evgenii Pevzner (Moscow) and
Igor Guzienko (Kiev).
I received interesting message from Vio Forsberg, Norrköping, Sweden:
1951 - I was 13 years - my father had an Opel Admiral 1939 Jubileum modell. Opel was 75 years old 1939 and in our car there was a badge in silver with the numbers 75. The car was a 4-door cabriolet with leather-interior and colour of the car was Tomato-Red (!). The car got two new owners up till now and I talked to the present owner and he told me that the car is in excellent condition (it was stored for nearly 40 years).
---
If you have to add, ask or correct me, you are welcome to write me by E-mail Contact. Andrei Bogomolov.
---

Entrance   Gallery   Cars   Opel   Sale   Links
---
Last updated 12 VII 2002.