Oldtimer picture gallery. Trucks. ZiS-8 ATUL.
---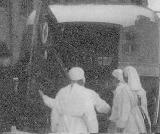 ATUL built bus on ZIS-8 chassis


Years of production: 1937 - 1939
Overall production: ?
Leningrad built 6x2 bus on reinforced and prolonged ZiS-8 chassis
45 passengers, 29 seats
Length: 8580mm, width: 2400mm, height: 2480mm, inner height: 1800mm
Wheelbase: 4420mm, rear axle clearance: 250mm
Front wheel track: 1545mm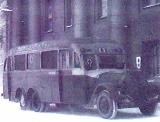 Rear track: 1675mm
Turning radius: 11,0 m (by outer track of front wheel)
Body materials: solid wood carcass covered with 8-12mm iron leaves.
Engine: ZiS-5, carburettor liquid-cooled 73hp/2300rpm, 6-cyl. SV, 4-stroke, 5557cc,
engine weight - 434 kg
Bore/Stroke: 101,6/114,3 mm
Compression ratio: 4,6 : 1
Battery ignition
Battery type and voltage: 3ST-142, 142 A*h, 12 Volt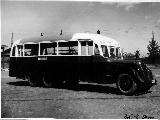 Generator type, voltage, power: GA-27, 12 Volt, 250 Watt
Carburettor: MKZ-6
Spark plugs type: NM 12/15 B, size 18 x 1,5 mm
Starter type, voltage, power: MLF-31, 12 Volt, 1,7 Watt
Oil filter with changeable felt elements, inserted in consecutive order into oiling system.
(Oil change - after every 1200 km).
Clutch: dry twin plate
Gearbox: 4 forward, 1 back, without synchronizers
Gearbox ratios: I - 6,60, II - 3,74, III - 1,84, IV - 1,0, rear - 7,63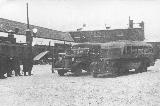 Cardan: Spicer - 1 shaft, 2 hinges
Differential type: twin reductor, bevel and spur gears
Differential ratio: ? (ZiS-5 - 6,41)
Semiaxles of unloaded type
Semielliptical longitudinal leaf springs
Steering type: screw-pin
Mechanical shoe brakes on rear wheels
Hand shoe brake to rear wheels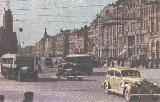 Weight: 9170 kg (with full load), 6020 kg (without load)
Maximal speed: 55 km/h
Disk wheels with dismountable rim
Tyres: 34x7 inches.
Tyre pressures, atmospheres: 5,0 (front wheels), 5,5 (rear wheels)
Tyre compressor working from intermediate shaft of gearbox
Fuel consumption: 41 Ltr/100km
Fuel tank capacity: 150 Ltr
Octal number of gasoline: 55 - 60
Engine capacities: oil carter - 7,0 Ltr, cooling system - 32,0 Ltr.

Photos and data are from:
"Tehnicheskije harakteristiki sovetskih avtobusov" by V.I.Naumov & M.I.Bregovskii, Leningrad, 1950.
http://www.autoretro.spb.ru, site of Aleksei Rjazancev (Leningrad).
V.I.Matveenko (Leningrad).
"Avtomobili Rossii i SSSR" by Lev Shugurov , Moskva, 1993.
"Nacionaljnyi Avtomobiljnyi Muzei", Leningrad.
Museum of GK "Mosgortrans" (Moskva).
Mihajil Jegorov (Moskva).
Jevgenii Smirnov (Moskva-Kijev).
Vitalii Kirtoki,
Ambulances.ru, site of Sergei Suvorov (Moskva).
---
Entrance   Gallery   Trucks   ATUL   ZiS   Sale   Links
---
Last updated 3 VI 2006. Andrei Bogomolov. Contact Information.