Oldtimer picture gallery. Trucks. GAZ-60.
---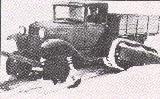 GAZ-60


Years of production:
1938 - 1942. Designed by NATI in 1936 as NATI-V3.
Overall production: ? units. Only one is known, it's photo is here.
If you know another one in any condition, please let me know.
Half-track 1,2-ton conversion of GAZ-AA
Engine: GAZ-M, 50hp/2800rpm, 4-cyl, 4-stroke SV, 3285cc, engine weight - 248 kg
Bore/Stroke: 98.43/107.95 mm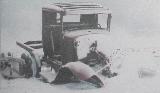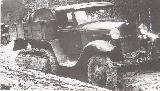 Length: 5335mm, width: 2360mm, height: 2100mm
Wheelbase (to centre of bogies): 3340mm, road clearance: ?mm
Gearbox: 4 speeds and 2-speed auxiliary box
Weight: 3520 kg
Maximal speed: 35 km/h
Tyres: 6,50-20 inches
Fuel tank capacity: 40 L
Fuel consumption: 57,0 L/100km (with tracks)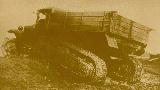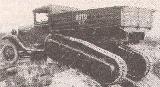 Some were used as base for anti-aircraft mashine guns. Also prototype with gas producer engine existed.
Photos are from:
Chris Pitman's GAZ album, Woombye, Queensland, Australia,
Denis Orlov, automobile history journalist, Moscow,
GAZ archive,
NAMI archive,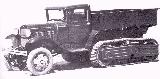 Bart Vanderveen's book "Historic Military Vehicles Directory", An After The Battle publication,
1989,
Lev Shugurov's book "Avtomobili Rossii i SSSR", izdatelstvo ILBI, Moscow, 1994.
Thanks for help to Jan Szatan, Poland (homepage).
eBay (Germany),
"Afisha-MIR" magazine, ¹02(14) 2005, page 81 (Russia).
---

Entrance   GALLERY   Trucks   GAZ trucks   Sale   Links
---
Last updated 12 VII 2005. Andrei Bogomolov. Contact Information.