Oldtimer picture gallery. Trucks. GAZ-4.
---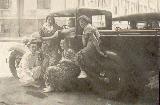 GAZ-4


Years of production: 1933 - 1937.
Overall production: 10648. Seems completely extincted.
If you know anything of survived pickup GAZ-4 in any condition, please let me know. Thanks.
4x2 400kg GAZ-A based pickup with GAZ-AA cabin.
Engine: 50hp/2800rpm, 4-cyl, 3285cc
Bore/Stroke: 98,43/107,95 mm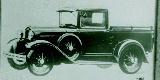 Length: 4080mm, width: 1710mm, height: 1825mm
Wheelbase: 2630mm, clearance: 205mm
Gearbox: 3-speed
Weight: 1120 kg
Maximal speed: 90 km/h
Tyres: 5,50-19 inches
Fuel tank capacity: 40 L
Fuel consumption: 12,0 L/100km
1937 photo is from the archive of Mihail Lukinov (sitting on the left), photo courtesy of Artem V. Drabkin, visit his site Memoirs of Great Patriotic War veterans.
One photo is from the archive of NAMI. Thanks for help to Denis Orlov, automobile historian and journalist, Moscow.
The last survived GAZ-4 I knew of had been sold from Aleksandrov (Vladimir region) to Armenia in 1978.
---
You are welcome to write me by E-mail Contact. Andrei Bogomolov.
---
Entrance   Gallery   Trucks   GAZ   Sale   Links
---
Last updated 11 XI 2000.