Oldtimer picture gallery. Cars. GAZ-A.
---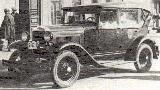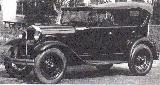 GAZ-A


Years of production: 1932 - 1936
Overall production: 41917 units
4x2 5-seater 4-door phaeton
Engine: 40hp/2200rpm, 4-cyl, 4-stroke, 3285cc
Bore/Stroke: 98.43/107.95 mm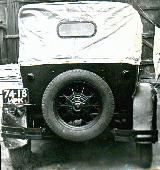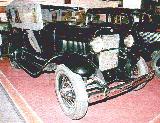 Length: 3875mm, width: 1710mm, height: 1780mm
Wheelbase: 2630mm, clearance: 205mm
Gearbox: 3 speeds
Differential ratio: 3,78, pair of bevel gears with spiral tooth
Mechanical brakes on all wheels
Weight: 1080kg
Maximal speed: 90 km/h
Tyres: 5.50-19 inches
Fuel capacity: 40 L
Fuel consumption: 12.0 L/100km
This car is almost copy of 1930 Ford-A. Officially GAZ-A is first serial passenger car in Soviet Union. People called it "Gazik". In parallel few pieces of 4-door 6-light saloon GAZ-6 have been built, and Moscow plant "Aremkuz" built also very few different hard-top advanced bodies for GAZ-A.
---
If you have to add, ask or correct me, you are welcome to write me by E-mail Contact. Andrei Bogomolov.
---

Entrance   Gallery   GAZ cars   Sale   Links
---
Last updated 5 VII 1999.