Oldtimer gallery. Cars. FIAT-500 Topolino.
---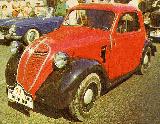 FIAT-500 Topolino


Years of production: 1936-1948 (-1955)
Overall amount: 83.266 pre-war (italian only), 38.750 post-war (A-model -48) units
Engine: 13hp/4000rpm, 4-cyl, 4-stroke 569cc
Bore/Stroke: 52/67 mm
Length: 3250mm, width: 1290mm, height: 1400mm
Wheelbase: 2000mm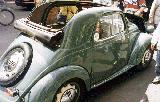 Gearbox: 4 speeds
Weight: 510 kg
Maximal speed: 86 km/h
Tyres: 4.00-15 or 4.50-16 inches
Fuel tank capacity: 21.5 L
Fuell consumption: 6 L/100km
Price: 1.925 RM (1939)
Topolino was too successful car, that few countries produced it also: Polski FIAT in Poland, NSU-FIAT in Germany and SIMCA in France. Short lived B model with larger engine (48-49) can outside only spotted by different lock of the hood.
Sucessfull C model (more than 500.000 built) with larger body was in production till 1955, when the new 600 was presented.
The car on the 84k upper picture has been restored in Tallinnan Club UNIC, Estonia.
35k rear sight of Topolino cabriolimousine is taken from http://www.OldtimerGo.net/oldie1.htm.
Topolino in English for means wee mouse.
This page has been prepared with active participance of Martin Vorwahl, collector of oldtimer photos, Oldenburg, Germany.
What else in the net:
Topolino FIAT (in Italian), site of Massimo Massarenti, Venezia, Italy.
Books for old car (in English, only FIAT books).
Another Topolino site (in Italian) of Massimo Massarenti, Venezia, Italy.
Topolino Maslacak (in English), site of Maslacak Vojkan, Belgrade.

---
You are welcome to write me by E-mail Contact. Andrei Bogomolov.
---
Entrance   Gallery   FIAT cars   NSU-FIAT-500   Sale   Links
---
Last updated 18 VIII 1998.