Oldtimer picture gallery. Cars. FIAT-1500.
---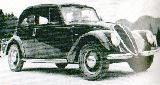 FIAT-1500


Years of production: XI 1935 - 1939 - 1944
Body types: sedan, cabriolet
Overall production: ? units
Engine: 43hp/4400rpm, 6-cyl, 4-stroke OHV 1493cc
Bore/Stroke: 65/75 mm


Length: ?mm, width: ?mm, height: ?mm
Wheelbase: ?mm; clearance: ?mm
Backbone frame
Independent front suspension of Dubonnet type
Hydraulical all-wheel brakes
Gearbox: ? speeds
Weight: ? kg
Maximal speed: 114 km/h
Tyres: ? inches
Fuel tank capacity: ? L
Fuel consumption: 10-12 L/100km
Price: ?
In 1939 new V-grille appeared.
FIAT-1500 were also produced by Germany (NSU-FIAT 1500) and Poland (Polski FIAT 1500 PZInz,
1937-1939, 800 built).
4-door sedans have pillarless doors.
Photos are from:
"A-Z of Cars of the 1930s" by Michael Sedgwick & Mark Gillies,
"Die Chronik des Automobils" by Hans-Otto Neubauer.
Thanks a lot for help to Jan Szatan, Poland.
---
If you have to add, ask or correct me, you are welcome to write me by E-mail Contact. Andrei Bogomolov.
---

Entrance   GALLERY   FIAT cars   NSU-FIAT-1500   Sale   Links
---
Last updated 4 II 2000.