Oldtimers picture gallery. Motorcycles. DKW-RT125.
---
DKW-RT125 (Reichs Typ 125cc)


Years of production: 1939 - 1945
Overall production: 21000 of DKW RT 125 and 12000 of DKW RT 125-1? units
Engine: 4.75hp/4800rpm, 1-cyl, 2-stroke 123cc
Slit valves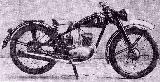 Bore/Stroke: 52/58 mm
Compression: 6:1
Carburettor: Amal E 68/18, Bing AJ 1/16 N, Grätzin K 16/A; 16mm
Length: 196cm, width: 66cm, saddle height: 68cm
Wheelbase: 1230mm, clearance - 15cm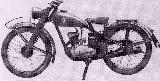 Gearbox: 3 speeds
Chain
Tube frame
Parallelogram front fork
Weight: 68 kg (aluminium block)
Maximal speed: 72(?75) km/h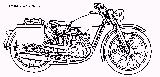 Tyres: 2.50-19 inches
Fuel capacity: civil - 7.5L, Behördenausführung - 9 L
Fuel consumption: 2.3 L/100km
Two bottom pictures are from Peter Kirchberg's book "Bildatlas Auto Union", Berlin, 1987.
First two images (66k and 122k) show civilian RT125, the third one (95k) shows 1940 military version.
---
If you understand German, you will find more data on DKW RT125 page, prepared by Dr. Josef Nemeth, Eisenstadt, Austria.
The 4th picture on this page has been shared by Josef. This is late version of the RT125 model.
---
If you have to add, ask or correct me, you are welcome to write me by E-mail Contact. Andrei Bogomolov.
---
Entrance   GALLERY   DKW motorcycles   Sale   Links
---
Last updated 6 II 1999.