Oldtimer gallery. Motorcycles. Zündapp-K500.
---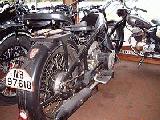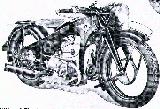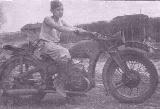 Zündapp-K500 (data for K500W (military))


Years of production: 1933-1940 (K500W - 1934-1939)
Overall production: ? units
Engine: 16hp(civilian - 12,5hp)/4800rpm, opposite SV 2-cyl, 4-stroke 498cc
Bore/Stroke: 69/66,6 mm
Compression ratio: 5,8:1
Length: 2150mm, width: 815mm, height: 900mm, saddle height: 72cm
Wheelbase: 1390mm, road clearance: 13cm (civilian, by other source 110mm for Wehrmacht version)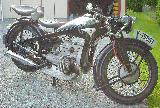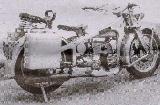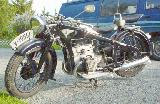 Carburetter: Amal 4/407 S (later Amal 3/418) or Bing AJF 2/22
Battery: Bosch, 6V, 7 Ah
Gearbox: 4 speed
Ratios: I - 3,00; II - 1,92; III - 1,15; IV - 0,95
Cardan
Rear axle ratios: solo - 5,57 (7:39), sidecar version - 6,33 (6:38)
Weight: 188 kg
Maximal speed: 105 km/h (K500W solo - 100 km/h, with sidecar - 85 km/h)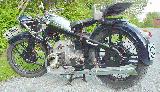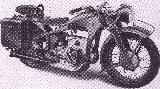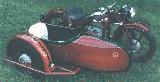 Tyres: 3,50 or 4,00x19 inches
Fuel tank capacity: 12,5 L
Fuel consumption: 4,5 L/100km (K500W - 5 L/100km solo, 6 L/100km with sidecar)
Photos are from:
MC-Veteranerna Klubben, Kristianstad, Sweden,
Tilman Werner's book "Von Ardie bis Zuendapp" (Stuttgart, 1993),
"German Motorcycles in World War II" By Schiffer Military, written by Stefan Knittel,
Vladimir Kolotovkin (Moscow, Club RKKA, VARS),
Klassisk Bil & MC,
Mobile.de,
Bo Monwell, owner of this 1937 Zündapp K500 with sidecar (http://www.gewall.x.se/), Gävle, Sweden,
Petter Nessimo (Stjørdal, Norway), his father owns this pictured 1939 Zündapp K500 (V-19651).
Thanks a lot to Egon Admann from Long Island, NY, USA.
---
You are welcome to write me by E-mail Contact. Andrei Bogomolov.
---
Entrance   Gallery   Zündapp   Motorcycles   Sale   Links
---
Last updated 20 VII 2001.