Oldtimer picture gallery. Motorcycles. Zuendapp-DB200.
---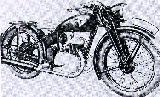 Zuendapp-DB200


Years of production: 1935-1940
Overall production: ? units
Engine: 7hp/3950rpm, 1-cyl, 2-stroke 198cc
Bore/Stroke: 60/70 mm
Compression: 6.1:1
Length: ?mm, width: ?mm, height: ?mm
Wheelbase: 1300mm
Gearbox: 3 speeds
Weight: 105 kg
Chain
Maximal speed: 85 km/h
Tyres: ? inches
Fuel capacity: 12 L
Fuel consumption: ? L/100km
---
The 99k image is from Tilman Werner's book "Von Ardie bis Zuendapp" (Stuttgart, 1993).
---
If you have to add, ask or correct me, you are welcome to write me by E-mail Contact. Andrei Bogomolov.
---
Entrance   GALLERY   Zuendapp motorcycles   Sale   Links
---
Last updated 28 VI 1998.