Oldtimer picture gallery. Trucks. ZIS-11.
---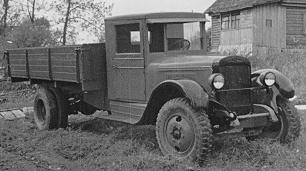 ZIS-11


Years of production: 193? - 1941
4x2, longwheelbase ZIS-5 truck
Overall production: ?, very rare
Engine: 73?hp/2300rpm, 6-cyl, 5555cc
Bore/Stroke: 101.6/114.3 mm
Length: ?mm, width: 2235mm, height: 2160mm
Wheelbase: ?mm, clearance: 250mm
Gearbox: 4 speeds
Weight: ? kg
Maximal speed: 60? km/h
Tyres: 34x7 inches
Fuell consumption: ? L/100km

---
This longwheelbase ZIS-5 was designed specially for fire engine equipment truck PMZ-11, but wooden boardplatform trucks also existed. Many of them were exported into Baltic republics (independent until 1940).
---
If you have to add, ask or correct me, you are welcome to write me by E-mail Contact. Andrei Bogomolov.
---
Entrance   Gallery   ZIS trucks   Sale   Links
---
Last updated 19 VI 1998.