Oldtimer picture gallery. Cars. ZIS-101.
---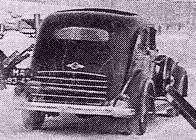 ZIS-101


Years of production: 1936-1939
Overall production: 8752 units (including 101A and 102) (in 1936 - 11 units)
Body: 7-seater 4-door limousine or 5-door ambulance
Engine: 90hp/2800rpm, straight 8-cyl, 4-tact 5,766cc
Compression: 4.8:1
Bore/Stroke: 85.0/127.0mm
Clutch: dry twin disk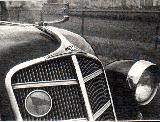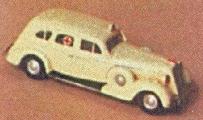 Length: 5750mm, width: 1890mm, height: 1870mm
Wheelbase: 3605mm
Front wheels track: 1500mm
Rear track: 1550mm
Rear axle clearance: 190mm
Turning radius: 7.7m
Gearbox: 3 speeds with synchronizer
Brakes: mechanical on all wheels, with vacuum system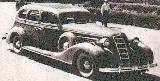 Weight: 2550 kg
Maximal speed: 115 km/h
Tyres: 7.50x17 inches
Fuel capacity: 80 L
Fuel consumption: 25.5 L/100km
Price: government limousine, not for sale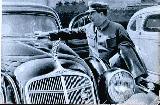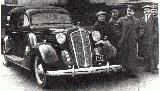 This car has been created for government and communist leaders. Almost all limousines have been painted in black, sometimes in dark blue or silver. Soon after the beginning of the Great Patriotic war many of ZIS-101 have been taken into preservation as not matching to war roads.
Upper image is taken from "Za Rulyom" magazine, USSR. Image of ambulance model below is from Alexander V.Kotlyar site.
The 3rd 49k photo of ZIS-101 is from 1947 "Ogonyok" magazine, USSR.
Two last images have been taken on 29 IV 1936 in Kremlin. This was presentation day for ZiS-101 prototypes. Stalin didn't enjoy this kind of mascot, and it was later replaced by another one. People on the picture (from the left): I.A.Lihachov (director of ZiS), G.K.Ordjonikidze ("Sergo") (narkom (minister) of heavy industry), I.V.Stalin, V.M.Molotov (narkom of foreign affairs), A.I.Mikoyan (narkom of trade). Photos by N.Vlasik, commander of Stalin's defence convoy. Russian State Archive of Cinema- and Photodocuments.
Thanks for help to automobile journalist Denis Orlov, Moscow.
---
If you have to add, ask or correct me, you are welcome to write me by E-mail Contact. Andrei Bogomolov.
---
Entrance   GALLERY   ZIS cars   Sale   Links
---
Last updated 15 III 1999.