Oldtimer picture gallery. Motorcycles. Triumph-B350.
---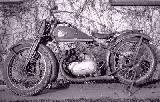 Triumph-B350


Years of production: 1938 - 1939
Overall amount: ? units
Engine: 12hp/4200rpm, 1-cyl, 2-stroke 346cc
Bore/Stroke: 72/85 mm
Compression ratio: 6.2:1(?)
Carburettor: Bing 2/22

Chain
Length: 205cm, width: 74cm, saddle height: 71cm
Wheelbase: 131cm
Gearbox: 4 speeds (2.76-1.81-1.33-1.0)
Pressed steel frame
Weight: 140 kg
Maximal speed: 108 km/h
Tyres: 3.25-19 inches
Fuel capacity: 11.5 L
Fuel consumption: 3.4 L/100km
The first 34k photo shows the motorcycle owned by Daniel Sida from Liberec, Czechia. Daniel restores this bike now.
The second 93k image is from Tilman Werner's book "Von Ardie bis Zuendapp" (Stuttgart, 1993).
---
If you have to add, ask or correct me, you are welcome to write me by E-mail Contact. Andrei Bogomolov.
---
Entrance   GALLERY   Triumph motorcycles   Sale   Links
---
Last updated 26 V 1998.