Oldtimer picture gallery. Motorcycles. Triumph-5T "Speed Twin".
---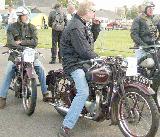 Triumph-5T


Years of production: May 1937 - 1940, 1945 (1946?) - 1958
Overall production: ?
Engine: vertical parallel 2-cyl OHV 28,5hp/6000rpm, 498cc
Bore/Stroke: 63/80 mm
Length: ?mm, width: ?mm, height: ?mm
Wheelbase: 54 inches
Gearbox: 4 speeds
Weight: 166 kg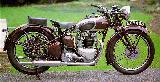 Maximal speed: 145 km/h
Tyres: front - 26x3,00 inches, rear - 26x3,50 inches
Fuel tank capacity: 3 1/4 gallons
Petroll consumption: ? L/100km
Oil tank capacity: 3/4 gallon
Price: 75 pounds.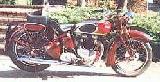 These pictures are from:
"Motoring" George Spauwen, Utrecht, the Netherlandes, owner of 1939 and 1973 Triumphs,
look also at his internet page Victrace Video Production - Motoring George Spauwen -
videofilms op Historisch-, Klassiek Automobiel- en Motorfietsengebied. George also helped me with some data,
Trader Online.
---
This model was ancestor of many british models for long time.
Official Metropolitan (London) Police motorcycle since 1938.
---
You are welcome to write me by E-mail Contact. Andrei Bogomolov.
---
Entrance   GALLERY   Triumph motorcycles   Sale   Links
---
Last updated 24 IV 2000.