Oldtimer picture gallery. Trucks. 1937 Studebaker-2J.
---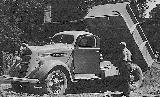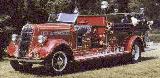 Studebaker Standard Series 2J


Year of production: 1937
4x2 11/2-ton (J15), 2-ton (J20) truck, ... (and 1/2-ton J5 coupe-express, see main page)
Overall production: ?
Engine: Hercules gasoline ?hp/?rpm, ?-cyl, ? cubic inches; or diesel (on J20D models) 77hp/?rpm, ?-cyl, ? cubic inches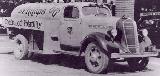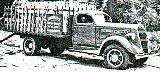 Bore/Stroke: ?/?
Length: ?mm, width: ?mm, height: ?mm
Wheelbases: J15 - 162 inches (J15-62), ... ; J20 - 138 inches (J20-38), 180 inches (J20-80), ...
Clearance: ?mm;
Gearbox: ?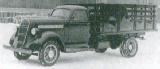 Weight: ? kg
Maximal speed: ? km/h
Tyres: ? inches
Fuel capacity: ?



Fuel consumption: ? L/100km
My sincere credits:
This page contains materials from the "Turning Wheels" (XII 1994), Studebaker Driver's Club magazine (editor - Linda Fox), article by Fred K. Fox,
from archive of Gary Cameron (BO) (Topeka, Kansas, USA) - his images are b&w of superb quality,
from Studebaker Driver's Club site (fire truck color image)
and from the book by Asa E.Hall & Richard M. Langworth "The Studebaker Century".
Thanks to John Henne (Shelburne, NH, USA) and Anatoliy Lev (Moscow).
---
You are welcome to write me by E-mail Contact. Andrei Bogomolov.
---
Entrance   Gallery   Studebaker trucks   Sale   Links
---
Last updated 6 I 1999.