Oldtimer picture gallery. Motorcycles. Puch-125.
---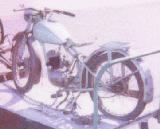 Puch-125


Years of production: 125, 125T: 1940-1950
125S: 1947-49, 125TT: 1950-52, 125TS: 1949-52
Overall amount: 125, 125T: about 40000 units
125S: 975, 125TT: 19192, 125TS: 2334
(T - Touren, S - Sport)
DATA FOR PUCH-125:
Engine: 5,2hp/4500rpm, 1-cyl, double piston 2-stroke 124,75cc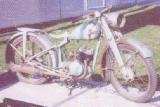 Bore/Stroke: 2x38/55 mm
Length: 1940mm, width: 650mm, height: 900mm
Wheelbase: 1255mm
Gearbox: 3-speed
Weight: 84 kg
Maximal speed: 95 km/h
Tyres: ? inches
Fuel capacity: 8,5 L
Fuel consumption: 2,4 - 2,7 L/100km
Photos are from:
"Moto" magazine, Nr.5, Russia. This "007" number plate bike was restored by S.Florinsky (Furmanov, Ivanovo region, Russia).
Dennis Bolda from Illinois, USA, owner of pictured (supposedly 1938) Puch-125.
Motorrad Markt magazine, Germany.
All the data were kindly supplied by Gunter Harms from Bavaria, Germany.
---
If you understand German, you will find more data on Puch 125 page, prepared by Dr. Josef Nemeth, Eisenstadt, Austria.
---
You are welcome to write me by E-mail Contact. Andrei Bogomolov.
---
Entrance   Gallery   Motorcycles   Puch   Sale   Links
---
Last updated 14 XI 2001.