Oldtimer picture gallery. Motorcycles. PMZ-A750.
PMZ, Podol'skii Motocykletnyi Zavod, Podol'sk, Moskovskaja oblast', SSSR.
(Podolsk Motorcycle Factory, Podolsk, Moscow region, USSR.)
---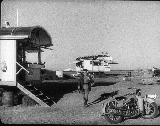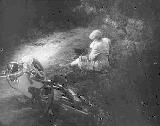 PMZ-A750

(data for solo)
Years of production: 1935-1939
Overall production: ?
2-seater (3 with sidecar)
Length: ?mm, width: ?mm, height: ?mm, saddleheight: ?mm
Wheelbase: 1395mm, road clearance: 112mm
Engine: 15hp/3600rpm, V2-cyl. SV, 4-stroke, 747cc
Bore/Stroke: 70/97 mm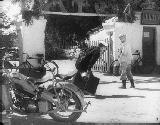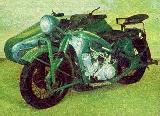 Compression ratio: 5,0 : 1
Carburettor: MK-1
Ignition system: battery (3MT-16, 6V), battery capacity - 16 A*h
Generator type and power: GMN-87; 6V, ?W
Spark plugs type: ?
Headlight type: ?
Signal type: ?
Air cooling
Gearbox: 3-speed (by some sources - 4-speed)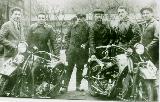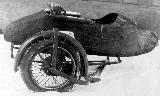 Ratios: I - ?, II - ?, III - ?
Front fork: of pressed steel with quarter-elliptic leaf spring
Rear suspension: ?
Pressed steel welded frame
Chain and gears
Brakes: mechanical
Weight (fuelled): 185 kg (solo, by other source - 210 kg), 300 kg (with sidecar)
Maximal speed: 100 km/h (solo), 80 km/h (with sidecar)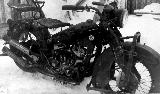 Tyres: 4-19 inches (by other source - 4,50-18 in.)
Tyre pressures (atmospheres): front - ?, rear - ?
Fuel tank capacity: 21 L
Fuel consumption: ? L/100km
NATI-A750 was prototype for serial PMZ-A750 model.
Before appearance of M-72 PMZ-A750 was the heaviest Soviet motorcycle. Letter A in index goes for Army. Almost all pre-war motorcycles in Soviet Union have been created and served for army purposes.
Photo and some data are from:
Za Rulyom magazine, USSR.
Collection of Politehnicheskii Muzei, Moskva (Polytechnical Museum, Moscow).
"Traktoristy" movie by Aleksandr I. Pyrjjev, "Mosfilm" studio, Moscow, 1939.
(Thanks for help to Tarmo Riisenberg (Estonia) for scans from "Traktoristy" made by his father.)
Archive of NAMI, Moskva (Moscow).
Denis Orlov, automobile journalist and historian, Moskva.
---
You are welcome to write me by E-mail Contact. Andrei Bogomolov.
---
Entrance   Gallery   Motorcycles   Sale   Links
---
Last updated 17 I 2003.