Oldtimer picture gallery. Motorcycles. M-72.
M-72 - ZiS (Moscow), GMZ (Gorkii), IMZ (Irbit), K-O (Harkov), KMZ (Kiev).
M-72K, M-72M - IMZ (Irbit)
M-72N - KMZ (Kiev) (and IMZ (Irbit)?).
---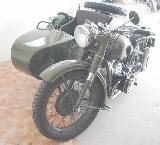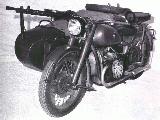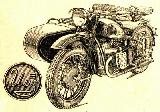 M-72

(data for 1949 M-72 without sidecar)
Years of production: 1941-1943 preliminary M-72, 1944-1956 M-72,
1954-1960 M-72K,
1956-1960 M-72M, 1956-1959 M-72N
Overall production: ?, approximately 6000 in 1941-1945
Payload: 300 kg in one manual, 3 people + 100 kg
(with sidecar) in an other manual
Length: 2380/2420mm, width: 1590/1600mm, height: 1000/980mm, saddleheight: 720mm (all dimensions are for sidecar bike)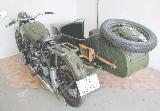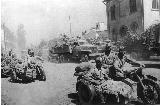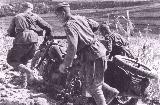 Wheelbase: 1400mm
Road clearance: 130/135mm
Engine: 22hp/4500-4800rpm or
4800-4900rpm
M-72K - 27hp/5000rpm
2-cyl., 4-stroke SV with
horizontal opposed cylinders, 746cc
Bore/Stroke: 78/78 mm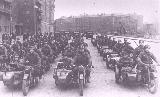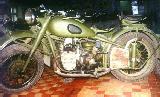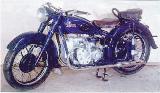 Compression ratio: 5,5 : 1
Carburettor: K-37, K-37A from 1950
onward
Ignition system: battery 3MT-7 or
3MT-14, 6 Volt, 7 or 14 Amp*h except
M-72K Magneto
Interrupter-distributor type: PM-05
Generator type and power: G-11; 6V, 45W, G-11A from 1952 onward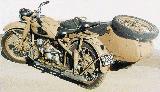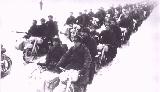 Relay-regulator: RR-1, RR-31 from 1950
onward EXCEPT M-72K none fitted
Bobbin: KM-01, IG-4085 from 1950
onward
Spark plugs type: A 11/11; M14 X 1,25

Headlight: FG-6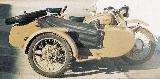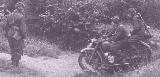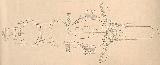 Signal horn: SM-01 or SM-02, S-35A
from 1950 onward
Clutch: dry twin plates
(the very early model - one plate)
Engine cooling: air
Gearbox: 4 speed with hand and foot shift
Ratios: I - 3,60, II - 2,28, III - 1,7, IV - 1,30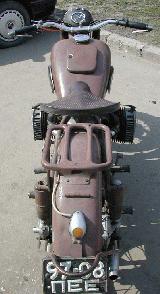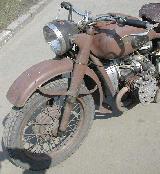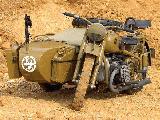 Differential ratio: 3,86, 4,62 from 1944 onward
Front suspension: telescopic type with
hydraulic shock absorbers except on
M-72N leading link type
Rear suspension: telescopic type
Frame: tube type
Cardan
Mechanical drum brakes on front and rear wheels
Weight (fuelled): 225 kg (solo), 350 kg (with sidecar)
Maximum speed (with sidecar): 85 km/h except M-72N 90 km/h and M-72K 120 km/h
Tyres: 3.75-19 inches, wheels are interchangeable
Tyre pressures (atmospheres): front - 1,5-1,8, rear - 2,0-2,5, sidecar - 1,8-2,3, spare - 2,0-2,5
Fuel tank capacity: 22 L
Fuel consumption (with sidecar): 7 L/100km under 50-60 km/h
Engine oil capacity: 2 liters
Oil consumption: 0,25 L/100 km
Transmission oil capacity: 0,8 liters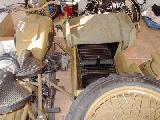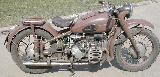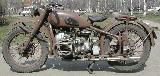 Differential oil capacity: 0,175 liters

In 1941 M-72 production began in Moscow (ZiS), at the end of 1941 equipment was moved to Irbit, where IMZ appeared. Some amount of M-72 has been produced in Gorkii (repotedly only assembled from Moscow parts).
Since early 1950's - available in shops. Before that time they were only for army.

My great gratitute for kind contribution to M-72 specialists:
Vladimir Kolotovkin (Moscow, Club RKKA, VARS, all the photos from WW2 are from Vladimir),
Ronald Smith (specialist on M-72 from Montreal, Canada), Ronald helped me too much with photos and data.
Benno van Ham, Secretary of Dutch Ural Dnepr Club Nederland (Breda) and
Vladimir Haski (Pyatigorsk, Stavropol region, Russia).
Also thanks for the photos to Innokentii Vladislavlev from Penza, Russia, owner of pictured 1956 M-72M and to
Thomas Schreiber from Germany (1952 M-72).
Sources:
"Atlas konstrukcii sovetskih motocyklov", Mashgiz, Moscow, 1950.
1942 Soviet M-72 parts manual,
1954 East German,
1954 Czechoslovakian, and
1956 Polish M -72 maintenance manuals.
---
You are welcome to write me by E-mail Contact. Andrei Bogomolov.
---

Entrance   Gallery   Motorcycles   IMZ   LMZ   KMZ   Sale   Links
---
Last updated 23 VI 2002.