Oldtimer picture gallery. Cars. Moskvich-423.
---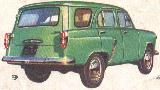 Moskvich-423

(Data for 423N - in parentheses, if they are different)
Years of production: 1957-1958-1960-1963
Overall production: Moskvich-423 (1957-1958): 1525 units, Moskvich-423N (1958-1963): ? units
Engine: 402 (1957-1958), 35hp/4200rpm, 4-cyl, 4-stroke SV, 1220cc
407(1958-1963), 45hp/4500rpm, 4-cyl, 4-stroke OHV, 1360cc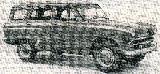 Bore/Stroke: 72(76)/75 mm
Length: 4055mm, width: 1540mm, height: 1600mm
Wheelbase: 2370mm
Gearbox: 3 speeds + rear, since (I 1960) - 4 speeds + rear
Weight: 1015(1030) kg
Maximal speed: 105 km/h
Tyres: 5,60-15 inches
Fuel capacity: 35 L
Fuel consumption: ?(7.5) L/100km
Price: ?
First 67k image shows Moskvich-423, drawing by A.Zaharov from "Za Rulyom" magazine, USSR.
Second 48k image shows 1958 Moskvich-423N, photo from 1960 parts catalogue.
Moskvich-423 hasn't horizontal side moldings. Its rear fenders have been supplied with more high vertical moldings. Bumpers had horizontal flute.
1960 version has different radiator grill.
---
If you have to add, ask or correct me, you are welcome to write me by E-mail Contact. Andrei Bogomolov.
---
Entrance   GALLERY   Moskvich cars   Sale   Links
---
Last updated 2 VII 1998.