Oldtimer picture gallery. Cars. Moskvich-410.
---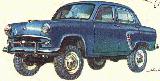 Moskvich-410

(Data for 410N - in parentheses, if they are different)
Years of production: 1957-1958-1961
4x4: 4-seater 4-door sedan
Overall production: Moskvich-410 (1957-1958): 1035 units, Moskvich-410N (1958-1961): 9340 units
Length: 4055mm, width: 1540mm, height: 1670mm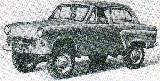 Wheelbase: 2377mm
Front wheel track: 1220mm; toe-in: 1,95-2,05 mm
Rear track: 1220mm
Cleareance under front and rear axles: 220mm
Turning radius (on outer front wheel): 6,5m
Climb (on 1st gear): 33o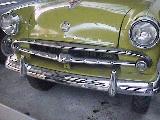 Ford depth: 0,3 m
Engine: 402 (1957-1958), 35hp/4200rpm, 4-cyl, 4-stroke SV, 1220cc
410N(1958-1960), 45hp/4500rpm, 4-cyl, 4-stroke OHV, 1360cc
Compression ratio: 7,0 : 1
Bore/Stroke: 72(76)/75 mm
Cylinder firing order: 1-3-4-2
Cool clearance between tappet and valve stem: intake - 0,13-0,15 (0,15) mm, exhaust - 0,18-0,20 (0,20) mm
Clutch: dry single plate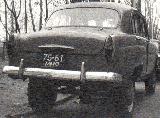 Carburettor: K-44 (K-59), downdraft
Battery: 6ST-42, 12V, battery capacity - 42 A*h, 3,0 Litres
Bobbin type: B-1
Interrupter-distributor type: R35-B (R-35A), clearances - 0,35-0,45 mm
Generator type and power: G22, 200W
Relay-regulator type: RR-24B
Starter type and power: ST-22 (ST-4); 0.6hp
Spark plugs type: A11U, SP-M14X1.25; electrode clearance: 0,6-0,7 (0,6-0,75) mm
Headlights type: FG-22; sidelights type: PF-22; rearlights type: FP-22; rear number light type: FP-23
Sound signal type: S-44
Radio type: A-8M
Gearbox: 3x2 speeds + 1x2 rear, since I 1960 - 4x2 speeds + 1x2 rear
Ratios of 3 speed gearbox: I - 3,53(3,1), II - 1,74, III - 1,00, rear - 4,61(4,71)
Distribution box ratios: high - 1,15, low - 2,68
Differential ratio: 5,14 (4,62), bevel gear with two satellites
Front suspension: 2 longitudinal semielliptical springs + 2 hydaulical shock-absorbers acting in one direction
Rear suspension: 2 longitudinal semielliptical springs + 2 hydaulical shock-absorbers acting in one direction
Hydraulical all-wheels shoe brakes
Clutch pedal clearance: 31-38mm
Brake pedal clearance: 4-6mm
Weight (unloaded): 1180(1150) kg
Maximal speed: 85(90) km/h
Tyres: 6,40-15 inches
Tyre pressure (atmospheres): 1,7, all wheels
Fuel tank capacity: 35 L of gasoline A-70 (A-72)
Fuel consumption: 10(9.5) L/100km
Cooling system capacity: 7,5(7,65) L
Oil carter capacity: engine - 5,0(5,3) L; oil filter - 0,45(0,35) L; gearbox - 0,45(0,65; 4-speed gearbox - 1,1) L;
distribution box - 1,10(0,94) L; rear axle carter - 0,54(0,57) L; front axle carter - 0,45(0,54) L
steering unit - 0,25(0,15) L; hydro-brakes carter - 0,54(0,57) L; front damper - 0,145 L ; front damper - 0,145 L
Price: ?
First 67k image shows Moskvich-410, drawing by A.Zaharov from "Za Rulyom" magazine, USSR.
Second 60k image shows Moskvich-410N, photo from 1960 parts catalogue.
3rd 55k picture of early Moskvich-410N is kindly supplied by Leslie Sheldon from Scotland. Leslie writes automotive histoy articles for appropriate magazines.
4th image is from archive of automobile journalist Denis Orlov, Moscow.
Moskvich-410 rear fenders have been supplied with more high vertical moldings. Bumpers on 410 and early 410N had horizontal flute.
---
If you have to add, ask or correct me, you are welcome to write me by E-mail Contact. Andrei Bogomolov.
---
Entrance   GALLERY   Moskvich cars   Sale   Links
---
Last updated 21 III 1998.