Oldtimer picture gallery. Trucks. Sd. Kfz. 252.
Parentage firm: Demag, Wetter/Ruhr, Benrath, Berlin-Falkensee, Germany.
Co-producers: Adler, Büssing-NAG, Saurer (Vienna).
---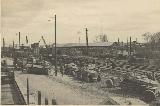 Sd. Kfz. 252 (Sonder-Kraftfahrzeug 252, special vehicle 252);
le. gp. Mun. Transportfahrzeug (leichte gepanzerte Munitions T., light armoured ammo transport)


Years of production: 1940-1941 (by other source 1941-1942)
Overall production: limited number of all versions of 7500 armoured D7p
Demag D7p based half-track armoured ammunition transport, body by Wegmann (Kassel)
Length: ?mm, width: ?mm, height: ?mm
Road clearance: 285(?) mm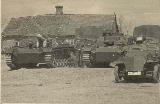 Front wheel track: 1630mm; toe-in: ? mm; camber: ?o; caster: ?o
Rear track: 1580mm
Chain (shortened D7): length: 6080mm; width: 240mm, driving front sprockets
38 steel 160-mm elements with rubber in every chain, on 1+4+1 wheels (these 4 in chess order)
Turning radius: 5 m
Engine:
carburetter Maybach HL 42 TRKM 100hp/2800rpm, watercooled straight 6-cyl. slope valve OHC 4-stroke, 4170cc
Bore/Stroke: 90/110 mm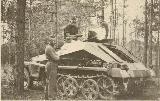 Pistons type and material: ?
Compression ratio: 6,6 : 1
Carburettor: one offroad two-stage Solex 40 IFF II
Carburettor data: ?
Electrics: 12V, battery capacity - 75 A*h
Generator type and power: ?; 130W
Starter type and power: ?, 1,8 hp
Spark plugs type: ?; ?mm; electrode clearance: ? mm
Clutch: dry twin plate
Clutch pedal clearance: ?mm
Gearbox: semi-automatic pre-selector Maybach Variorex SRG 102128 H, 7 forward, 3 back speeds, controlled differential
Ratios (front): I - 8,2; II - 5,4; III - 3,53; IV - 2,28; V - 1,49; VI - 1,02, VII - 1,00, rear - ?
Frame: steel bath
Front suspension: transversal leaf spring
Rear suspension: torsion bars
Hydraulical steering brakes on chain front sprockets
Weight: ?kg + ?kg load; trailer weight: ? kg,
Maximal speed: 65 km/h
Tyres: 6,00-20 inches, offroad
Tyre pressures (atmospheres):?
Fuel tank capacity: 140 Ltr.
Petrol consumption: 40 Ltr/100km (highway), 70 Ltr/100km (offroad)
Cooling system capacity: ? Ltr.
Gearbox oil carter capacity: ? L
Ford depth: 700mm
Armour: 12 mm front, 8 mm sides and rear

Photos and data are from:
Werner Oswald "Kraftfahrzeuge und Panzer der Reichwehr,Wehrmacht und Bundeswehr", 1982,
Motorbuch Verlag Stuttgart.
eBay Deutschland.
---
You are welcome to write me by E-mail Contact. Andrei Bogomolov.
---
Entrance   Gallery   Trucks   Sale   Links

Demag   Adler   Büssing-NAG   Saurer (Vienna)
---
Last updated 1 III 2003.