Oldtimer gallery. Motorcycles. Izh-49.
---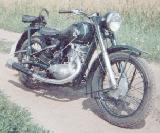 Izh-49


Years of production: 1951-1958
Overall production: 507603
Engine: 10,5-11,5hp/3200rpm, aircooled 1-cyl., 2-stroke, 346cc, with aluminium head
Bore/Stroke: 72/85 mm
Compression ratio: ? : 1
Length: 2175 mm, width: 780 mm, height: 1000 mm
Wheelbase: ?
Road clearance: 120 mm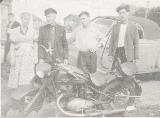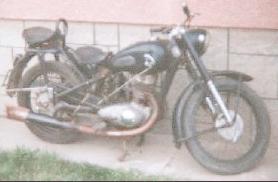 Box-type stamped frame, welded from two halves
Carburetter: K-28B
Centrifugal air filter
Clutch: multi-disk, in oil bath
Gearbox: 4-speed, both hand- and foot changed
Ratios: I - 4,32; II - 2,24; III - 1,4; IV - 1
Rear axle ratio: 5,06 : 1
Ignition: Battery, 6 Volt
Spark plugs type and dimensions: NA II/II, M14x1,25
Interrupter clearance: 0,4-0,6 mm
Chain
Brakes: drum-type
Weight without load: 162 kg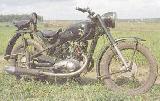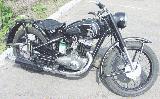 Engine weight: ?
Maximal speed: 90 km/h, minimal - ?
Tyres: 3,25-19 inches
Tyre pressures (atmospheres): front - 1,5; rear - 1,8 (2,3 with passenger)
Fuel tank capacity: 13-14 Ltr.
Gearbox oil carter capacity: 1 Ltr
Petrol consumption: 4,5 Ltr./100km under 50-60 km/h in summer time
Fuel: petrol A-66 GOST 2084-51 with avtol 6-10 in proportion 20 : 1 for new engine, 25 : 1 used engine.
Ford passing depth: 300 mm

Photos are from: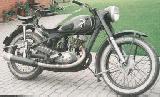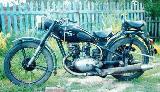 Igorj Gorshenjov (Saratov, Russia).
Vladimir Mjachin (Vladimir, ja poterjal Vash adres, proshu proshchenija).
Sergei Fomin (Russia).
Virginijus Norkus (Sutknu k., Siauliu raj., Lithuania).
"Motorrad-Markt" magazine (Germany).
Tamas Debreczeni (Romania). The motorcycle on two upper pictures was restored by Tamas's uncle - Levente Rakossy.
Black Izh-49 on the right view is restored by Andrei Ruban, Cherkassy, Ukraine.
Data are by the "Motocykl Izh-49. Instrukcyja po uhodu i ekspluataciji" Vtoroje izdanije, g. Izhevsk, 1957.
Thanks for help to Mark Korabljov (Nizhnii Novgorod, Russia).
---
You are welcome to write me by E-mail Contact. Andrei Bogomolov.
---
Entrance   Gallery   Motorcycles   Izh   Sale   Links
---
Last updated 26 V 2002.