Oldtimer picture gallery. Trucks. Canadian Military Pattern (CMP).
Chevrolet C15 & Ford F15.
---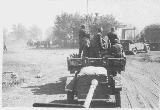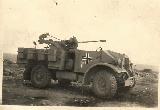 Canadian Military Pattern, 4x2, C15 & F15

(data for Chevrolet 8421/C15 personnel if not written)
Years of production: 1940-1942-1945
Overall production: ?
15-cwt (about 3/4-ton) 4x2 rear wheel drive truck
Body types: general service (usually), van (with canvas over tubular
superstructure), office, wireless, cable layer, personnel, water tank, anti-tank gun tractor,
machinery "KL", various.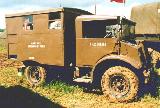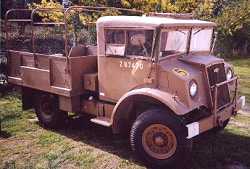 Length: 170 in.; width: 86 in.; height: 93 in.
Road clearance: ?
Front wheel track: ?
Rear track: ?
Turning radius: ? m
Engines:
Chevrolet C15: carburetter own 85hp/?rpm, watercooled straight 6-cyl. OHV 4-stroke, 216 cu. in.
Bore/Stroke: ?/? in.; compression ratio: ? : 1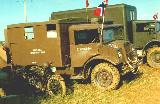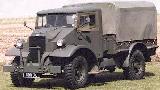 Ford F15: carburetter own 95hp/3600rpm, watercooled V-8-cyl. SV
4-stroke, 239 cu. in.
Bore/Stroke: ?/? in.
Compression ratio: 6,5 : 1
Carburettors: ?
Electrics: 6 Volt (Ford), battery capacity - ? A*h
Clutch: dry twin plate
Gearbox (both C15 & F15): 4 forward + 1 back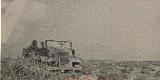 Ratios: ?
Front suspension: leaf springs
Rear suspension: leaf springs
Hydraulic brakes
Weight: 6060 lb
Maximal speed: ?
Tyres: 9,00x16 inches, offroad
Tyre pressures (atmospheres):?
Fuel tank capacity: ?
Petrol consumption: ?
Canadian built military trucks by British design requirements.
Cab evolution: Nr. 11 (soft- or hard top, one piece radiator grille), Nr. 12 (hard top, alligator-type bonnet: similear to Nr. 11 but 2-piece radiator grille), Nr.13 (since 1942, hard top, "reverse" sloped windscreen).
From outside Chevrolet and Ford differ by front badge and different structure of grille net.

Photos and data are from:
Jan Szatan, Poland (Klasyczne Pojazdy Terenowe Panstw Socjalistycznych).
Bart Vanderveen's book "Historic Military Vehicles Directory", "After the Battle" publication, 1989.
eBay Deutschland.
WW2 Vehicles & Trailers.

---
You are welcome to write me by E-mail Contact. Andrei Bogomolov.
---
Entrance   Gallery   Trucks   Chevrolet   Ford   Sale   Links
---
Last updated 16 II 2003.