Oldtimer gallery. Trucks. BA-10, BA-10M.
GAZ-AAA based armoured car.
Izhorskii Zavod, Kolpino, Leningradskaja oblast', SSSR.
---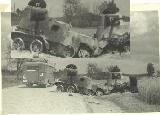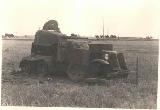 BA-10, BA-10M (BroneAvtomobil'-10Modificirovannyi)

(data for BA-10, 1938-1939)
Years of production: 1938 - 1939 - spring 1941.
Overall production: ?,
the most mass Soviet armoured car of Great Patriotic War early years
6x4 GAZ-AAA based 3-axle armoured car, crew - 4.
Engine: 50hp/2800rpm, straight 4-cyl. SV, 3285cc
Bore/Stroke: 98,43/107,95 mm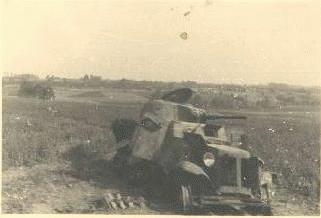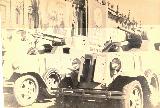 Length: 4655mm; width: 2070mm; height: 2210mm
Wheelbase: 2730mm + 940mm
Road clearance: 230 mm
Gearbox: (4 speed + 1 back) x 2-speed auxilliary box
Drive on 4 rear wheels
Turnable spare side wheels
Weight: 5140 kg
Maximal speed: 53 km/h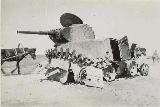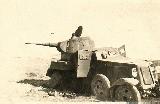 Tyres: 6,50-20 inches
Fuel tank capacity: ? Ltr.
Fuel consumption: ? Ltr./100km
Weapon: 45-mm gun + 2 machine 7,62-mm guns "DT"
Armour: up to 15mm in some places
Removable tracks on rear bogie wheels
Radio equipment
Screened electrics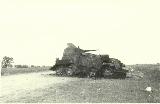 1939 conflict at Halhin-Gol showed non-satisfactory offroad features. Further production has been gradually reduced, but still very many of them in the Red Army by June 1941.
Outer difference from predecessor BA-6M - inner hinges of doors.
1939 modification (BA-10M) had new steering and radio, improved armour protection of radiator.

Photos and data are from:
Lev M. Shugurov "Avtomobili Rossiji i SSSR", "Ilbi", "Prostreks", Moskva, 1993.
"Za rulyom" magazine, USSR.
eBay Deutschland.
Molotok.ru online auction, Russia.
---
Entrance   Gallery   Trucks   GAZ   Sale   Links
---
Last updated 5 III 2003. Andrei Bogomolov. Contact Information.