Oldtimer picture gallery. Trucks. GAZ-AAA.
---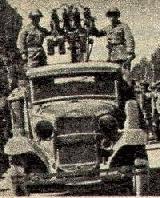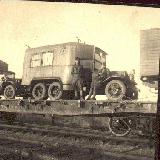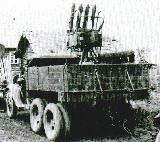 GAZ-AAA


Years of production: 1934 - 1943.
Overall production: 37373. Very few
survived. If you know anything of this
truck today existance in any condition,
please let me know. Thanks.
6x4 2-ton GAZ-AA based 3-axle truck.
Engine: 50hp/2800rpm, 4-cyl. SV, 3285cc
Bore/Stroke: 98,43/107,95 mm
Length: 5335mm; width: 2040mm; height: 1970mm
Wheelbase: 3200 mm, 940mm between rear axles
Road clearance: 230 mm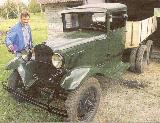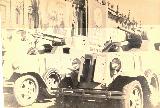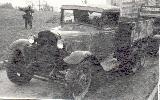 Gearbox: (4 speed + 1 back) x 2-speed
auxilliary box
Weight: 2475 kg
Maximal speed: 65 km/h
Tyres: 6,50-20 inches
Fuel tank capacity: 60+40 Ltr.
(40 - in the tank over the firewall)
Fuel consumption: 25,0 L/100km
In late 1941 the model has got simplified wings, cabin with canvas doors and only one headlight. Bumper was only on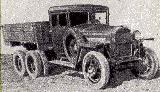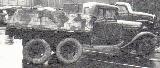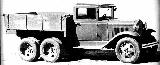 pre-1942 trucks. Later cabs had wooden doors.


Photos are from:
"Za rulyom" magazine, USSR.
Archive of Denis Orlov, automobile journalist and historian, Moscow.
Reinhard Frank, "Lastkraftwagen Der Wehrmacht", PODZUN-PALLAS, 1992.
Molotok.ru online auction, Russia.
GAZ album of Chris Pitman (Woombye, Queensland, Australia)
Eesti Antiikautode Galerii (in Estonian) - Estonian Antique Automobiles Gallery by Rain Vaikla.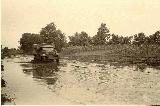 (This GAZ-AAA on color photo has been restored by Raivo Raju, member of "Levatek", L-Eesti Vanatehnika Klubi (E-mail), South Estonian Oldtimer Club.
Archive of Yuri Ivanovich Koryakin, who participated in WW2 with his Studebaker SCR radiostation with engine in trailer, photo courtesy of Artem V. Drabkin, visit his site Memoirs of Great Patriotic War veterans.
eBay Deutschland.
Thanks for help to Paul Seabury, England.
---
You are welcome to write me by E-mail Contact. Andrei Bogomolov.
---
Entrance   Gallery   Trucks   GAZ   Sale   Links
---
Last updated 28 XI 2002.