Oldtimer gallery. Cars. Atalanta 4,3-Litre (V12).
---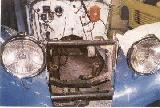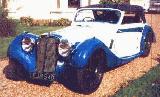 Atalanta 4,3-Litre (Atalanta V12)


Years of production: 1938-1939
Overall production: 15?
4x2 2-4-seater front motor rear wheel drive car
Body types:
2-seater sports, 2-door saloon, 4-seater drophead coupe, 2-seater drophead convertible
Engine: Lincoln Zephyr 112hp/?rpm, petrol, water cooled V12-cyl. SV, 4-stroke 4387cc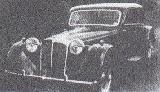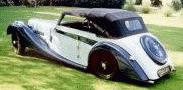 Compression ratio: ? : 1
Bore/Stroke: ?/?mm
Carburettor: ?
Battery: ?V, ? A*h
Generator: ?, ? A*h
Interrupter-distributor: ?
Spark plugs type: ?, ?mm



Cylinder firing order: ?
Clutch: ?
Length: ? mm, width: ? mm, height: ? mm
Wheelbase: 112 in. (4-seaters), 9 ft. (2-seaters)
Front wheel track: ? mm


Rear track: ? mm
Road clearance: ? mm
Turning radius: ? m
Gearbox: 3 speed + back (synchronised)
Ratios: III - ?, II - ?, I - ?, back - ?
Rear axle ratio: ?
Front suspension: independent
Rear suspension: horizontal coils
4-wheel brakes
Weight: ? kg
Maximal speed: ? km/h
Tyres: ?x? inches
Fuel tank capacity: ? Ltr
Fuel consumption: 17-20 mpg
Cooling system capacity: ? Ltr.

Photos and data are from:
Special Car Magzine.
Keith Wheeler (Edenbridge, Kent, England), owner of this 1939 Atalanta on color photos.
"A-Z of Cars of the 1930s", Michael Sedgwick & Mark Gillies, Bay View Books Ltd..
This page appeared almost exclusively thanks to Keith Wheeler.
---
You are welcome to write me by E-mail Contact. Andrei Bogomolov.
---
Entrance   Gallery   Cars   Atalanta   Sale   Links
---
Last updated 18 XI 2002.