Oldtimer picture gallery. Motorcycles. K-1-B "Kievlyanin".
---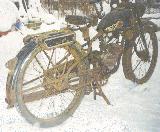 K-1-B "Kievlyanin"

(data for 1950)
Years of production: 1946-1950
Overall production: ?
1-seater motorbicycle
Length: 2010mm, width by steering bar: 655mm, height by steering bar: 980mm, saddle height: 740mm
Wheelbase: 1275mm, road clearance: 135mm, lower peddle - road clearance - 86mm
Engine: 2,3 hp/4000 rpm, 1-cyl., 2-stroke, air cooled, 98 cc.
Maximal turning moment: 0,47 kGs x m at 2800 rpm.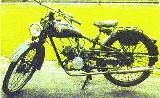 Relative power: 23,4 hp/L.
Engine with slanted cylinder, in one block with clutch and gearbox.
Bore/Stroke: 48/54 mm
Compression ratio: 5,8 : 1
Cast-iron cylinder with one scavenging channel (on the right).
Piston with deflector, with connecting-rod of flat (not I-beam) form (on cut).
Deflector scavening of cylinder
No padding between head and cylinder.

Decompressor in head to lighten a start with pedals.
Engine width: 182mm (narrow for pedaling), weight - 12 kg, fastening to the frame by 3 lugs.
Carburettor: K-26 or K-26A
Air cleaner: with contact-oiling cleaning
Ignition system: from fly-wheel magdino (ATE-2, 6V, 15/17 W)
(ATE is Russian abbreviation of "Avto-Traktornoe Electrooborudovanie", not ATE-Lockheed)
Ignition outstripping angle: 30-31o
Spark plug type and dimensions: Ì 12/20; M18 x 1,5, disassemblable.
Interrupter contact clearance: 0,35 - 0,45 mm
Headlight type: FG-7
Light switch type: P-30
Rear light type: FP-7
Head- and rear lights are supplied by different coils in fly-wheel magdino.
Speedometer type: ?
Sound signal: pear-shaper rubber with horn.
Speedometer sensor: on the hub of front wheel
Clutch: twin semidry plate, with cork plating
Gearbox: non-coaxial, with transversal shafts, 2-speed, withour rear speed,
with constant-contact gears, with hand steering (on-tank handle).
Ratios: I - 2,6, II - 1,77
Transmission ratio from engine shaft to clutch shaft: 2,5
Start mechanism of gearbox: from neutral clutch
Front fork: parallelogram with coil springs, with frictional dumper
Rear suspension: rigid, without springing
Frame: single, closed, from flat 24x2 and 20x2 mm tubes, frame weight - about 4 kg.
Chain, with opposide direction of fly-wheel turning ("CSO scheme")
Transmission ratio of rear wheel: 2,54
Possible work with pedals only (although this is hard work)
Brakes:
Front - shoe with wire rope
Rear - brake bush "Torpedo" (ribbon), works from pedals
Weight without load: (fuelled) 67 kg, (dry) 58,5 kg
Maximal speed: 50 km/h
Tyre size: 26-2,25 inches, not interchangeable; tyre diameter: 775mm.
Tyre pressures (atmospheres): front - 1,5, rear - 2
Fuel tank capacity: 8 L
Fuel consumption: 2,9 L/100km at 40 km/h., 2,4 L/100km at 30 km/h.

K-1-B is a copy of very popular German pre-war motorbicycle Wanderer-98 with Sachs motor. And more exactly this is Wanderer indeed, because after the war documents and equipment of Wanderer plant in Schönau near Chemnitz was moved to Kiev by reparation. After the war only very separate people in Soviet Union could afford own car, and motorcycles, especially light ones (and hence more cheap) became very popular and were even symbol of wealth. In 1946-1949 KMZ produced only motorcycle itself and received engines from other plant. In 1951 K-1-B was replaced by new K-1-D model.

Photos are kindly supplied by Victor Levine and
Valdo Praust, owner of K-1-B from Estonia.
Data are from:
"Atlas konstrukcyi sovetskih motocyklov", Mashgiz, 1950.
"Moto" magazine, Russia, Nr. 5, 1993, article by Lev Shugurov.
---
If you have to add, ask or correct me, you are welcome to write me by E-mail Contact. Andrei Bogomolov.
---

Entrance   GALLERY   KMZ motorcycles   List of motorcycles   Sale   Links
---
Last updated 15 VII 2000.