Oldtimer picture gallery. Cars. Hansa-1100.
---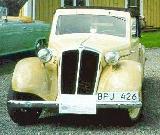 Hansa-1100

(Data for Limousine)
Years of production: 1934 - 1940
Overall production: about 20000
4x2 backbone tubular frame based 2-door limousine, cabriolet, cabriolimousine with front motor and rear wheel drive
Engine: "Hansa H 1100", power: maximal - 28hp/3800rpm, long-term - 27hp/3600rpm, carburettor 4-cyl. 4-stroke OHV (1934 model - SV), 1088cc,
Oiling under pressure
Bore/Stroke: 65/82 mm
Compression ratio: 5,8 : 1
Pistons type and material: ?
Cool clearance between tappet and valve stem: intake - ?mm, exhaust - ?mm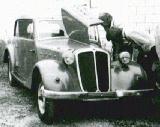 Length: 4100mm, width: 1525mm, height: 1470mm
Wheelbase: 2700mm, road clearance: 220mm
Front wheel track: 1280mm; rear track: 1320mm
Turning radius: 6,5m
Water cooling by pump.
Carburettor: Solex 26 BFHL
Dimensions: diffusor - ?mm; main jet - ?; sprayer jet - ?; idling jet (sprayer tube/calibrated hole) - ?/?; accelerator jet - ?;
between float's top and bottom of float chamber - ?mm
Air filter type: ?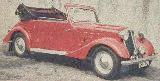 Ignition system: battery (Bosch, 6V), battery capacity - 60 - 75 A*h
Interrupter-distributor type: 1934 - Bo.VE 4 AR, 1935-1937 - Bo.VE 4 AS, 1938-1940 - Bo.VE 4 BS 144; contact clearance: ? mm
Generator type and power: Bo. RG 90/6 1500 RS3; ?W
Starter type and power: ?; ?hp
Spark plugs type: Bo W 175/TI; 14mm; electrode clearance: ? mm
Cylinder firing order: 1-3-4-2
Steering: screw-type
Clutch: (?dry) single plate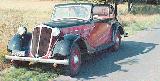 Clutch pedal clearance: ?mm
Gearbox: 4 speeds + 1 back, synchronized III and IV
Ratios: I - 3,79, II - 2,37, III - 1,54, IV - 1,00, rear - 4,64
Differential ratio and type: 5,38 : 1
Front suspension: independent on one semielliptical leaf spring
Rear suspension: independant on one semielliptical leaf spring
Hydraulical foot brakes ATE Lockheed (Alfred Teves Lockheed) on all wheels
Mechanical hand brakes on 2 wheels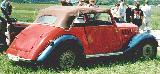 Hydraulical dampers
Weight (ready-to-run car): 1020 kg (Limousine); 1000kg (Cabriolet)
Maximal load to front axle: 560 kg (Limousine); 550kg (Cabriolet)
Maximal load to rear axle: 790 kg (Limousine); 770kg (Cabriolet)
Maximal speed: 90-95 km/h
Tyres: 5,00-16 or 5,25-16 inches (early Hansa-1100 had 5,5-17 tyres too. Was it in 1934-35?)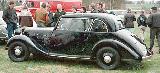 Tyre pressures (atmospheres): front - 1,5, rear - 2
Fuel capacity: 33 + 5 L
Fuel consumption: 9 L/100km (highway), 10 L/100km (norm), feeding by gravity flow
Cooling system capacity: 8,2 L of water
Oil carter capacity: engine - 4 L; gearbox - 0,6 L; differential - 2,5 L
Photos are from:
Svenska Borgwardklubben
Svenska Borgwardklubben (new page?)
Red cabriolet (BMA 73-26) was restored by Stanislav Mikes, Brno, Czechoslovakia. 68k photo from "Svet Motoru" magazine, Czechoslovakia.
"A-Z of Cars of the 1930s" by Michael Sedgwick & Mark Gillies, Bay View Books Ltd.

1. Who can help with images and data for restoring of Hansa-1100 cabriolet? Please write to the author of this gallery.
2. Sophie van Ravenswaay from Weesp (very close to Amsterdam, Holland) is restoring Hansa-1100 limousine. But head gasket, carburettor and 4 rims are missing. Who can help? Sophie's E-mail address is svanravenswaay@hotmail.com. Thanks.
---
You are welcome to write me by E-mail Contact. Andrei Bogomolov.
---
Entrance   GALLERY   Hansa cars   Sale   Links
---
Last updated 5 IX 2000.