Oldtimer picture gallery. Trucks. GAZ-S1.
I'm sorry, I don't know a difference between GAZ-S1 and GAZ-410. My impression is that GAZ-S1 is just first year (or two) name of GAZ-410, because in all reference books only one of these names is mentioned. If I'm wrong, correct me then.
---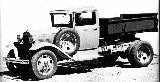 GAZ-410


Years of production: 1936 - 1946
4x2 1200 kg dump-truck
Engine: 50hp/2800rpm, 4-cyl, 3285cc
Gearbox: 4 speeds
Weight: 1920 kg
Maximal speed: 70 km/h
Fuel consumption: 21.0 L/100km
This picture is from Chris Pitman's GAZ album, Woombye, Queensland, Australia.
If you know anything of today existance of this truck, please let me know.
---
If you have to add, ask or correct me, you are welcome to write me by E-mail Contact. Andrei Bogomolov.
---
Entrance   GALLERY   GAZ trucks   Sale   Links
---
Last updated 15 VI 1998.