Oldtimer picture gallery. Trucks. GAZ-410.
---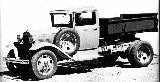 GAZ-410


Years of production: 1936 - 1942, ? - 1946
Overall amount: ?
4x2 1200 kg dump-truck
Length: 4670mm, width: 1950mm, height: 1970mm
Inner platform dimensions: Length: 1820mm, width: 1420mm, height: 420mm
Wheelbase: 3340mm
Front wheel track: 1405mm, front axle clearance: 300mm
Rear track: 1600mm, rear axle clearance: 200mm
Turning radius: 7.5m
Engine: 50hp/2800rpm, 4-cyl, 4-stroke SV, 3285cc, engine weight - 248 kg
Bore/Stroke: 98.425/107.95mm
Compression ratio: 4.6:1
Engine block material: grey cast-iron
Engine head material: cast-iron
Pistons material: aluminium alloy
Amount of piston rings: 3
Cool clearance between tappet and valve stem: intake - 0.25-0.30 mm, exhaust - 0.40-0.45 mm
Carburettor: GAZ-M, upflow, with economizer, and manual concentrator, without accelerating pump
Gearbox: 4 speeds
Clutch: dry single plate
Mechanical all-wheels brakes
Battery: 6 Volt, 80 A*h
Weight: 1920 kg
Maximal speed: 70 km/h
Tyres: 6.50-20 inches
Fuel capacity: 40 L
Oil system capacity: 4.7 L
Fuel consumption: 21.0 L/100km
This picture is from Chris Pitman's GAZ album, Woombye, Queensland, Australia.
If you know anything of today existance of this truck, please let me know.
---
The principle of this truck operation was quite interesting. Normally distributed cargo must roll the platform back unless special lock (you can see its handle almost in the middle of the platform side) keeps the body in horizontal position. When driver triggers the lock, cargo is dumping, and empty platform returns into horizontal position under effect of own weight, where the driver again must fix it by the lock.
May be the only GAZ-AA dump-truck was kept by Leningrad oldtimers club "Samohod".
---
If you have to add, ask or correct me, you are welcome to write me by E-mail Contact. Andrei Bogomolov.
---

Entrance   GALLERY   GAZ trucks   Sale   Links
---
Last updated 2 XII 1998.