Oldtimer picture gallery. Trucks. GAZ-05-193.
---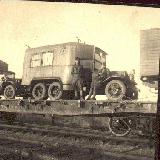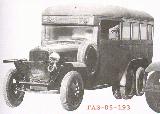 GAZ-05-193


Years of production: 1936 - 1945. In 1942 the model has got simplified wings and only one headlight. Bumper was only on pre-1942 buses.
Overall production: 237 units. Completely extincted?
If you know anything of this bus today in existence in any condition, please let me know. Thanks.
6x4 GAZ-AAA based 3-axle staff 9-passenger bus.
Engine: 50hp/2800rpm, 4-cyl, 3285cc
Bore/Stroke: 98.43/107.95 mm
Length: ? mm, width: ? mm, height: ? mm
Wheelbase: ? mm, clearance: ? mm
Gearbox: 8 speeds ahead + 2 back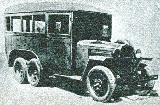 Weight: ? kg
Maximal speed: 65 km/h
Tyres: 6.50-20 inches
Fuel capacity: ? L
Fuel consumption: 27.0 L/100km
Sources of photos:
28k photo of radiobus is from archive of Yuri Ivanovich Koryakin, who participated in WW2 with his Studebaker SCR radiostation with engine in trailer, photo courtesy of Artem V. Drabkin, visit his site Memoirs of Great Patriotic War veterans.
Denis Orlov, automobile history journalist, Moscow,
GAZ archive,
"Svet Motoru" magazine, Czechoslovakia.
---
The last mention of GAZ-05-193 I met, was registration record of 1948. The bus with number plate YaA 37-08 (Ya is last letter of Russian alphabet and looks like mirrored R) belonged to vacations-house "named after Vorovsky" in Ivan'kovo of Yaroslavl suburbs.
---
You are welcome to write me by E-mail Contact. Andrei Bogomolov.
---

Entrance   Gallery   Trucks   GAZ   Sale   Links
---
Last updated 18 VIII 1998.