Oldtimer picture gallery. Motorcycles. DKW-RT3 and RT21/2.
---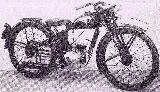 DKW RT 3 PS and RT 21/2PS


Years of production: 1934 - 1936 (RT21/2), 1937 - 1939 (RT3)
Overall production: ? units
Engine: 3hp/4000rpm (before 1936 - 2,5hp), 1-cyl, 2-stroke 98cc
Bore/Stroke: 50/50 mm
Length: 195cm, width: 71cm, height: ?mm, saddle height: 71cm

Wheelbase: 122cm
Gearbox: 3-speed
Weight: 56 kg
Maximal speed: 65 km/h
Tyres: 26-2,25 inches ("Export" and "Behörden-Ausfürung" ("Government Service") - 2,50-19 inches)
Fuel tank capacity: 7,0 L
Petrol consumption: 2,0 L/100km
Price: 345 RM (Normal), 370 RM (Luxusausfürung (with small tyres)).
Photos are from:
Peter Kirchberg's book "Bildatlas Auto Union", Berlin, 1987.
Thanks for help to Dinant Horck (the Netherlands).
---
You are welcome to write me by E-mail Contact. Andrei Bogomolov.
---
Entrance   GALLERY   Motorcycles   DKW   Sale   Links
---
Last updated 4 III 2001.