Oldtimer picture gallery. Motorcycles. DKW-NZ500.
---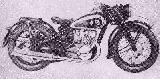 DKW-NZ500 (data for solo)


Years of production: 1939 - 1941
Overall amount: 4600 units
Engine: 18.5hp/4200rpm, 2-cyl, 2-stroke 489cc
Bore/Stroke: 64/76 mm
Compression: 6.0:1
Length: 2200mm, width: 73cm, saddleheight: 74cm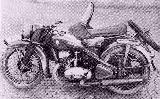 Wheelbase: 144cm, Clearance: 14cm
Gearbox: 4 speeds
Carburettor: Amal WN 76/456
Chain
Weight: 195 kg
Maximal speed: 115 km/h
Tyres: 3.50-19 inches
Fuel capacity: 14 L
Fuel consumption: 4.5 L/100km
These pictures are from Peter Kirchberg's book "Bildatlas Auto Union", Berlin, 1987.
Bottom picture shows NZ500 in Wehrmacht version.
Thanks for help to Pedro J. Hernandez Romera (Spain) and to
Jancsó András, owner of DKW NZ500 (Hungary).
What else in the Internet: DKW 500 NZ - site of Mirosiaw Abramowicz, Poland.
---
If you have to add, ask or correct me, you are welcome to write me by E-mail Contact. Andrei Bogomolov.
---
Entrance   GALLERY   DKW motorcycles   Sale   Links
---
Last updated 27 XI 1998.