Oldtimer picture gallery. Cars. 1935 Chevrolet.
---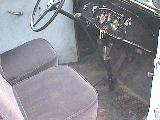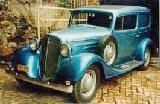 1935 Chevrolet: ED/EA Master DeLuxe, EC Standard



Year of production: 1935
Overall production: 548215 units (ED/EA - 346442, EC - 201773)
4x2 rearwheeldrive frontmotor car
Body modifications:
ED/EA Master DeLuxe, wheelbase - 113,0 inches (ED had no Knee Action. For EA Knee Action add 60 lbs & $20):
2-passenger 5-window Coupe, 2910 pounds, 560 US dollars, 40201 built
2-4-passenger 3-window Sport Coupe, 2940 pounds, 600 US dollars, 11904 built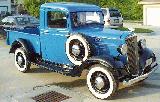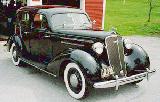 5-passenger Coach, 3010 pounds, 580 US dollars, 102996 built
5-passenger Sedan, 3055 pounds, 640 US dollars, 57771 built
2-door 5-passenger Town Sedan, 3055 pounds, 615 US dollars, 66231 built
4-door 5-passenger Sport Sedan, 3130 pounds, 675 US dollars, 67339 built
EC Standard, wheelbase - 107,0 inches:
2-4-passenger Sport Roadster, 2430 pounds, 465 US dollars, 1176 built
5-passenger Phaeton, 2495 pounds, 485 US dollars, 217 built
2-passenger Coupe, 2540 pounds, 475 US dollars, 32193 built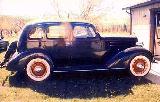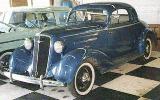 5-passenger Coach, 2645 pounds, 485 US dollars, 126138 built
5-passenger Sedan, 2700 pounds, 550 US dollars, 42049 built
Holden (Australia) supplied about 6000 bodies, 650 of which were EC tourers

Engine:
80 hp/3300rpm, Straight 6 - cyl, 206,8 cid, Bore/Stroke: 3,31/4,00 inches - Master DeLuxe
74 hp/3200rpm, Straight 6 - cyl, 206,8 cid, Bore/Stroke: 3,31/4,00 inches - Standard
The power difference is due to a different intake manifold on the Master engine.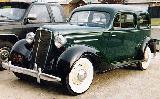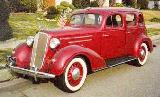 Compression ratio 5,6 : 1 (for both engines)
Length: ?mm, width: ?mm, height: ?mm
Clearance: ?mm
Weight: ? kg
Carburettor: ?
Gearbox: 3 speed
Maximal speed: ? km/h
Tyres: ?x? inches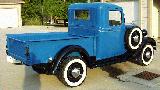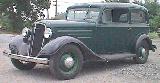 Fuel tank capacity: ? L
Fuel consumption: ? L/100km
6 Volt electrics
Although the 1934 DC and 1935 EC 'Standard' models appear
identical (same body/fender sheet metal), the '35 has a bigger engine,
bigger brakes and an X member chassis. Easiest way to check the model is by the
instruments/gauges. The 1934 has black faces with white numbers, the 1935 has cream faces with brown numbers.
Another way to tell difference between DC and EC is 1934 cowl vents open to the rear, 1935s open to the front.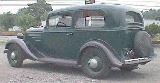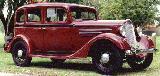 1933 CA and CC, and 1934 DC engines have spark plugs at 90
degrees, 1934 DA and all 1935 and all 1936 have spark plugs at an angle.
1933 CC and 1934 DC have water pump on the cylinder head. All
others have water pump on cylinder block.
Photos are from:
Deals On Wheels,
Trader Online,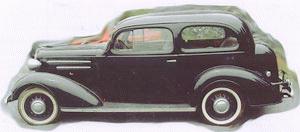 MS Webmasters,
Classic Pickups,
Classic Auto Network,
Dennis Hayman Chevrolet homepage (Australia), 4-door Standard sedan is former car of Dennis,
Cruisin Classics,
Antique Autos Online,


Hemmings Motor News,
Cool Cars Only,
Specialcar Magazine.
Data are from the "Encyclopedia of American cars", Publications International, Ltd., 1993, USA.
Thanks for help to Colin Taylor-Evans (Sydney, Australia), owner of '35 Chevrolet standard EC tourer (phaeton) with Holden body (Australian), one of about 650 built in Australia.
---
You are welcome to write me by E-mail Contact. Andrei Bogomolov.
---
Entrance   Gallery   Cars   Chevrolet   1934   1936   Sale   Links
---
Last updated 18 V 2001.