Oldtimer picture gallery. Trucks. 1937 Chevrolet.
---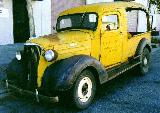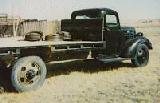 Chevrolet 1/2-ton (GC), 3/4-ton, 1-ton, 11/2-ton, 2-ton(?)


Year of production: 1937
4x2 1/2-ton (GC), 3/4-ton, 1-ton, 11/2-ton (and 2-ton(?)) cargo truck, special van and other modifications
Overall production: ?
Engine: 85?hp/?rpm, straight 6-cyl carburettor engine, 216,5(?) cid
Bore/Stroke: ?/? mm, compression ratio: ?
Length: ?mm, width: ?mm, height: ?mm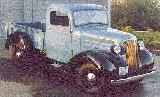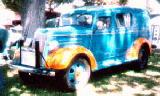 Road clearance: ?mm; wheelbase: ?mm
Front wheel track: ?mm
Cargo platform dimensions: ?x? mm
Turning radius: ? m
Carburettor: ?
Gearbox: ? speeds
Ratios: ?
Differential ratio: ?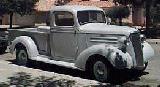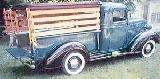 Clutch: ?
Battery: ? Volt ? Ah
Brakes: ?, handbrakes - steel cable to rear wheels(?)
Weight: ? kg, overall weight (loaded)- ? kg
Maximal speed: ? km/h
Tyres: ? inches, twin or single rear wheels
Fuel tank capacity: ? L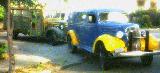 Fuel consumption: ? L/100km
Ford passing height: ? mm
Photos are from:
1937 Chevrolet Page of Lou MacMillan (California, USA), Lou is the owner of pictured 1937 1/2-ton canopy express, 3/4-ton ambulance and bus.
Dennis Hayman homepage, (Australia). Dennis restored 1937 Aussie Chevrolet pickup.
Trader Online,
Special Interest Vehicles Online,
Hemmings Motor News.
Thanks for help to Lou MacMillan (California, USA) and Dennis Hayman (Australia).
---
Entrance   GALLERY   Chevrolet trucks   1937 Chevrolet cars   Sale   Links
---
Last updated 1 X 2000. Andrei Bogomolov. Contact Information.